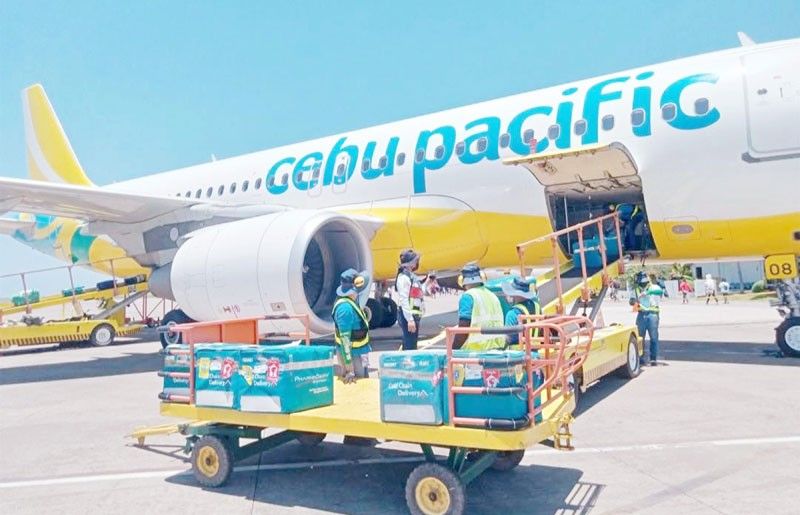 COVID vaccines are loaded into a Cebu Pacific aircraft over the weekend for transport to the cities of Tuguegarao, Legazpi, Tacloban Zamboanga and Cotabato.
Krizjohn Rosales
CebuPac transports COVID-19 vaccines
MANILA, Philippines — Cebu Pacific transported over 236,000 doses of COVID-19 vaccines across the country last week as part of its ongoing efforts to help the Philippines recover from the virus.
The vaccines were flown to Tuguegarao in Cagayan and Legazpi City in Albay on Friday, and to Cotabato, Tacloban and Zamboanga on Saturday.
The shipments consisted of 41,600 doses for Tuguegarao, 67,200 for Legazpi, 28,800 for Cotabato, 73,600 for Tacloban and 25,600 doses for Zamboanga.
"We are delighted to continue collaborating with our public and private partners for the realization of this endeavor. We consider it our duty to bring these much-needed vaccines across our wide domestic network while ensuring they are preserved well and delivered safely while in our care," CebGo president and chief executive officer Alex Reyes said.
Since March, the airline has flown more than 500,000 vaccine doses from Manila to various provinces across the country.
Cebu Pacific last week also made its first international vaccine shipment, flying half a million doses from Beijing to Manila in coordination with the Department of Health.