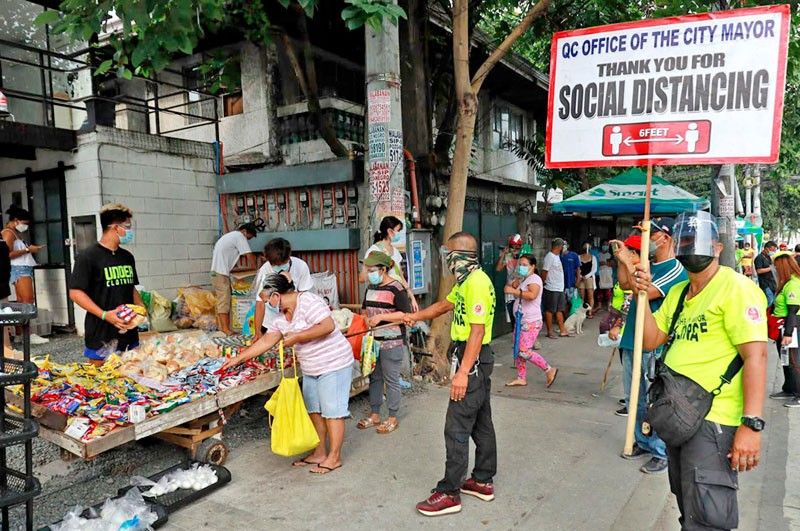 Members of Quezon City's Task Force Disiplina ensure that COVID health protocols are followed at the Maginhawa community pantry, which reopened yesterday.
Michael Varcas
Maginhawa community pantry reopens
Janvic Mateo
(The Philippine Star) - April 22, 2021 - 12:00am
MANILA, Philippines — The Maginhawa community pantry in Quezon City resumed operations yesterday, providing support to hundreds of people who lined up for food and other basic essentials.
"It never crossed my mind that we will stop the community pantry. I am sure that it will continue while there are people in need and there are those who are willing to help," organizer Ana Patricia Non said in an interview on ABS-CBN News Channel. "We had to pause to ensure our security. Red-tagging is not a joke. We needed to ensure the safety of the organizers, donors and those seeking assistance."
More than 70 community pantries have been established in Quezon City, according to Mayor Joy Belmonte, who reiterated her support to Non's initiative.
"She has achieved so much, so much more than many of us serving the public, including myself. She has brought something we were not able to deliver and that is the inspiration to our people and hope for our nation," Belmonte said. "Change begins because of people like her."
Belmonte said no permit is required for community pantries in the city, adding that there is no need to regulate an act of good will, compassion and humanitarian activity.
The mayor requested those who will organize pantries to coordinate with the barangays for disinfection of the area and implementation of health and safety guidelines.
"Definitely, no barangay will deny the establishment of a community pantry. But we need to maintain health protocols," Belmonte said.
"I don't want any regulation because this is something that grew out of love for the community. As much as possible, the government must stay away from this. The government will only come in if they ask for help and support," she added.
Non expressed gratitude to the city government for deploying security enforcers and providing volunteers protective equipment.
Belmonte had ordered an investigation after Non raised security concerns following the alleged profiling and red-tagging incident.
Non urged President Duterte to look at the emergence of community pantries as a wake-up call, saying it shows that the help provided by the government to the people was not enough.
"It was replicated all over the country because the people see the need in their barangays," she said.
Mayors back pantries
Mayors in Metro Manila have expressed their support for the community pantries organized by civilians.
The local governments of San Juan and Mandaluyong welcomed the opening of community pantries in their areas.
"We welcome the opening of community pantries in San Juan. It's always nice to see people with more blessings sharing to those who are less fortunate. This is the bayanihan spirit of the Filipino people at work," Mayor Francis Zamora said in a statement.
In Mandaluyong, Mayor Menchie Abalos encouraged organizers of community pantries to coordinate with barangay officials to help them set up stands in the best location.
"Mandaluyong will not require permits for community pantries. This is a laudable socio-civic initiative that must be encouraged," Abalos said.
"However, community pantries should not be exempt from the laws and city ordinances. No matter how noble the cause, everything should be conducted within the bounds of the law," she added.
In Pasig, Mayor Vico Sotto commended individuals who established community pantries in the city.
He said there is no need for organizers of community pantries to secure permits from city hall.
"The government has limited resources so all efforts to help others are welcome," Sotto said.
Caloocan Mayor Oscar Malapitan thanked organizers of community pantries for providing help to indigent residents. – Neil Jayson Servallos, Marc Jayson Cayabyab