Quezon City begins vaccinating seniors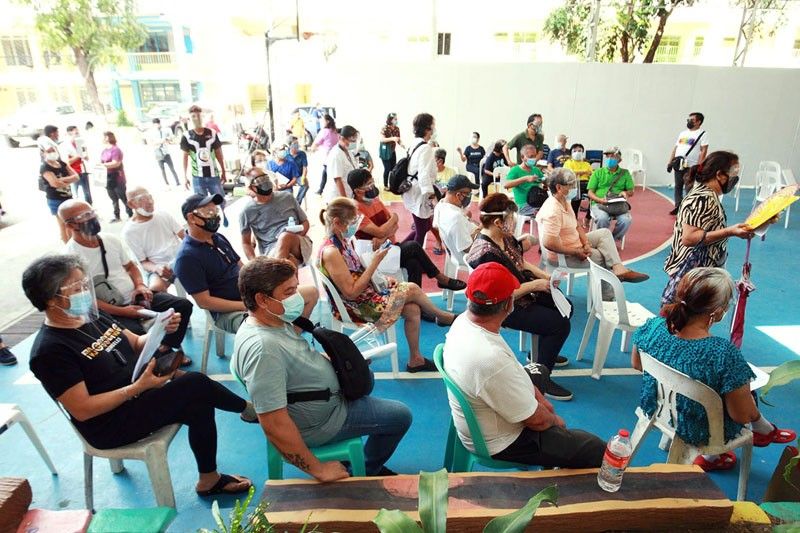 MANILA, Philippines — Senior citizens in Quezon City have received their first dose of vaccines against the coronavirus disease.
Joseph Juico, co-chairman of the local government's vaccination task force, said an initial 2,000 seniors were expected to be inoculated yesterday at vaccination sites in the city's six districts.
"This is a micro-rollout targeting barangays that are near the vaccine sites," Juico said in an interview with The STAR. "The only (AstraZeneca) vaccines that we have now are around 2,000 doses that we got from hospitals that were not able to consume these vaccines."
At a vaccination facility in Barangay Kaligayahan in District 5, senior citizens who were inoculated expressed hope that their lives would soon return to normal after over a year of being confined at their homes due the pandemic.
A 65-year-old woman said she did not hesitate to get vaccinated to protect herself from the virus, adding in Filipino, "I want to see my grandchildren grow up."
Leafar Marie Acorda, a medical officer at the vaccination site, said they have not encountered problems since the start of the vaccine rollout on March 22.
Like in other cities, Acorda noted instances of senior citizens being deferred due to high blood pressure or lack of medical clearances from their doctors.
The city government stressed the importance of vaccinating the elderly who belong to the second priority group after healthcare workers and other frontliners.
"After health workers, it is also important to immediately vaccinate our senior citizens," Juico said.
He said more senior citizens would be inoculated once the additional doses of AstraZeneca vaccines arrive.
The local government will start vaccinating those with comorbidities when the inoculation resumes after the Lenten break, according to Juico.
He said they would receive 35,000 additional doses of Sinovac from the national government.
With the current rate of 400 to 450 people vaccinated per site, Juico said they expect to consume the 35,000 doses in about one to two weeks.
"The city government will open two to three more vaccination sites," he said, adding that more residents have expressed their willingness to get vaccinated.
As of Monday, the local government had vaccinated over 18,400 people, including 1,110 healthcare workers at the Quezon City General Hospital, 6,815 employees of public and private hospitals in the city, and 10,496 other frontliners.