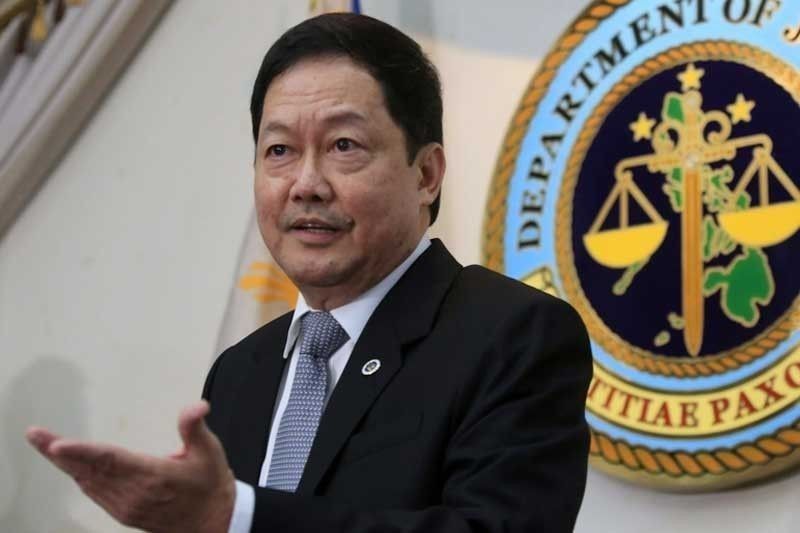 DOJ Secretary Menardo Guevarra said he has not yet read the CA's decision.
The STAR/Edd Gumban, file
CA junks Trillanes rebellion case
MANILA, Philippines — The Court of Appeals (CA) on Monday overturned an order by a Makati City regional trial court (RTC) to revive the rebellion case against former senator Antonio Trillanes IV.
In a 59-page decision, the CA's 6th Division ruled that Judge Elmo Alameda of RTC Branch 150 "acted with grave abuse of discretion" when he issued the orders in 2018 without considering whether his courtroom still had jurisdiction on a case "it has long ago dismissed."
The CA granted Trillanes' petition for review and a temporary restraining order as well as a preliminary injunction against Alameda, the Makati prosecutor's office and the Department of Justice (DOJ).
The decision was penned by CA Sixth Division chair Associate Justice Apolinario Bruselas Jr., with Associate Justices Maria Christine Azcarraga-Jacob and Angelene Mary Quimpo-Sale concurring.
DOJ Secretary Menardo Guevarra said he has not yet read the CA's decision.
"But I know that the issues are exclusively jurisdictional in character. I will leave it to the Office of the Solicitor General, as counsel for the government, to determine the appropriate legal remedy, which may include a motion for reconsideration with the (CA) or a petition for review with the Supreme Court," Guevarra said.
The CA said in its decision that Proclamation 75, a conditional amnesty decree issued during the time of former president Benigno Aquino III, was not revoked or repealed by Proclamation 572 of President Duterte since only the individualized grant to Trillanes was revoked.
The CA also dismissed the argument that there is a violation of the double jeopardy rule, saying since the dismissal of the case was because he filed a motion to dismiss, "he is deemed to have expressly given his consent to such dismissal."
"Considering that the first jeopardy did not attach when… the rebellion case was previously dismissed, any consequent action against the petitioner for the same crime of rebellion will not expose him to double jeopardy," the CA said.
It also said Proclamation 572, which authorized Trillanes' arrest without a warrant, violated neither the due process clause of the Constitution nor the equal protection clause.
But while the CA affirmed the constitutionality of Proclamation 572, it pointed out that the DOJ failed to comply with the procedural rules in assailing the validity of the Makati court's dismissal of the rebellion case in 2011.