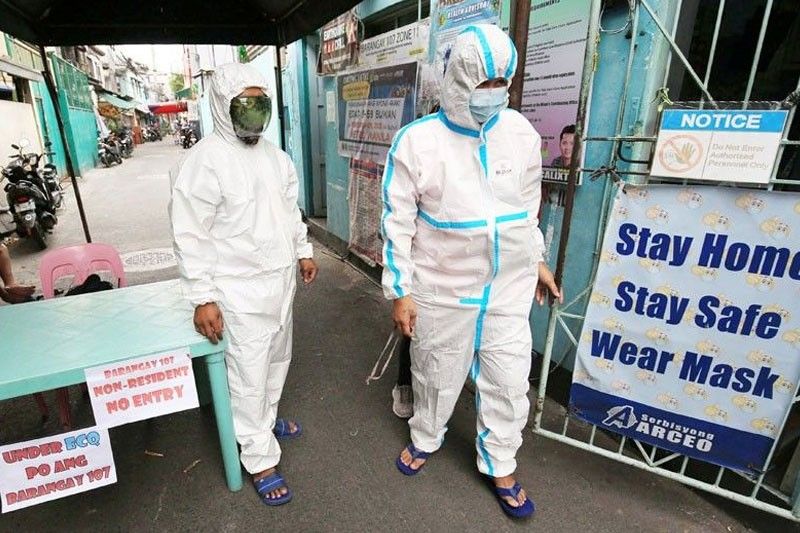 Photo shows local officials enforce lockdown in Barangay 107 in Pasay.
Edd Gumban, file
Active COVID-19 cases in Pasay hit 512
MANILA, Philippines — There are 512 active COVID-19 cases in Pasay as of Friday, the first time in more than five months, according to data from the city government.
The figure is the highest number of cases since Sept. 24, 2020, when Pasay recorded 532 active cases.
Of the 512 active cases, 93 were recorded from Feb. 25 to 26, according to the city's epidemiology and surveillance unit.
As of Friday, the city recorded 7,937 confirmed cases, with 7,220 recoveries and 203 deaths.
The number of active cases is equivalent to 6.45 percent of the total number of confirmed cases.
The number of active COVID-19 cases fell to as low as 65 in late January. However, there was an upward trajectory of new cases starting on Feb. 8, when the number of active cases was reported at 80.
From Feb. 9 to 26, the city government reported a steady increase in active cases: Feb. 9, 85; Feb. 10, 86; Feb. 11, 104; Feb. 12, 124; Feb. 13, 140; Feb. 14, 161; Feb. 15, 172; Feb. 16, 184; Feb. 17, 204; Feb. 18, 269; Feb. 19, 280; Feb. 20, 348; Feb. 21, 361; Feb. 22, 395; Feb. 23, 435; Feb. 24, 441; Feb. 25, 465 and Feb. 26, 512.
The city has locked down at least 55 barangays with three or more active cases in the past week.
Meanwhile, Dr. Mercedes Noble, National Immunization Program coordinator of the city, said yesterday Pasay's healthcare workers are ready to be inoculated with the first rollout of COVID-19 vaccines.
In an interview, Noble said the city has listed 13 health centers as vaccination sites that will prioritize medical frontliners.
Noble also announced that Pasay Mayor Emi Rubiano has recovered from COVID-19.