2 Aetas ask SC: Stop anti-terror law
February 3, 2021 | 12:00am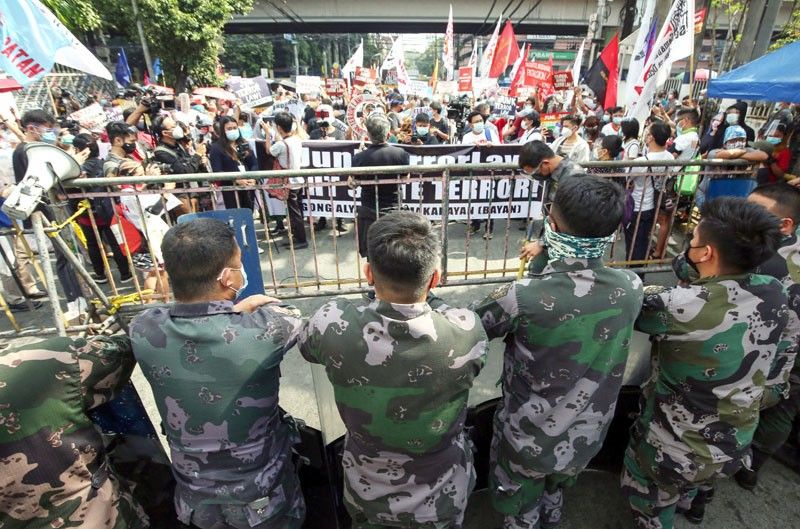 MANILA, Philippines — Two Aeta farmers, the first to be charged with violating the Anti-Terrorism Act of 2020, are asking the Supreme Court (SC) to stop the implementation of the contentious law.
Japer Gurung of San Marcelino, Zambales and Junior Ramos of Porac, Pampanga, assissted by the National Union of Peoples' Lawyers, yesterday filed a 43-page petition-in-intervention hours before the SC started oral arguments on the issue.
They asked the SC to admit their petition, which seeks the nullification of Republic Act 11479 and stop the government officials named in 37 previous petitions from further implementing the anti-terror law until the final adjudication of the case.
Gurung and Ramos are detained at the Olongapo City Jail on charges of violating Section 4(a) of the law or for engaging "in acts intended to cause death or serious bodily injury to any person or endangers a person's life."
Section 4 has been criticized by 37 petitions for reportedly being vague, unconstitutional and overbroad.
The two men were also indicted by the Zambales prosecutor on charges of illegal possession of firearms and explosives.
They believe that since they were the first to experience the effect of the law, they have a legal right to join the case since they "suffered a direct personal injury for being charged and detained under a vague and void law."
Gurung and Ramos, accused of killing a soldier during an alleged gunfight in Zambales in August last year, said they were detained and tortured for six days and made to confess to being members of the communist New People's Army.
No actual case?
In yesterday's interpellation, SC Associate Justice Marvic Leonen advised the 37 petitioners to wait until there is an actual case of the government violating the Bill of Rights before going to court.
"Should we not wait until there is a clear case? Perhaps there can be a petition filed on those that are red-tagged. And perhaps the facts should be very clear. Go to a regional trial court first so that the (RTC) can weigh in," he said.
He said that for the SC to "move in and use its powers, without that standard, would invite us to insert our political perspective into how a law should be."
Leonen said it should be left to Congress to find a balance in addressing the existential threat and the protection of rights enshrined in the Constitution.
"In other words, we cannot assume that just because there is a law that there is already a challenge to the Bill of Rights," he said.
Leonen said that inciting to sedition is even broader than the anti-terror law, which has exemptions such as advocacy, protests, dissent, stoppage of work and industrial or mass action.