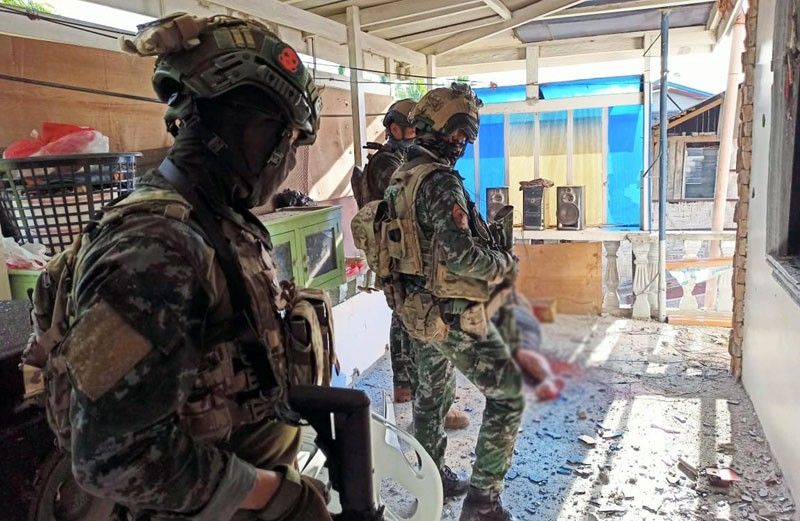 SAF commandos stand guard near the body of one of 12 men killed during a law enforcement operation in Barangay Limbo, Sultan Kudarat in Maguindanao yesterday.
John Unson
Cop, 12 others killed in Maguindanao shootout
MANILA, Philippines — Thirteen persons, including a police officer, were killed in a law enforcement operation against a former barangay captain in Maguindanao yesterday.
Policemen clashed with the followers of Pendatun Talusan, former chairman of Barangay Limbo in Sultan Kudarat town, who was among those killed in the six-hour gunfight.
Two other fatalities were identified as Bembi and Abdullah, also surnamed Talusan.
S/Sgt. Elenel Pido was pronounced dead on arrival in a hospital.
Capt. Ronillo Daligdig Jr., Pat. Cayl June Gonzales and Cpls. John Ryan Aquino and Gyvard Bando were wounded.
Agents of the Criminal Investigation and Detection Group backed by Special Action Force commandos and Maguindanao police personnel were about to serve arrest warrants for Talusan at his hideout when they were fired at.
Policemen reportedly used armored personnel carriers during the assault.
A police report said Talusan had pending warrants for double frustrated murder, robbery with homicide and carjacking. He was also tagged in gun-for-hire activities and extortion.
Police and military intelligence sources said the other fatalities were suspects in ambushes of soldiers and policemen in Sultan Kudarat and Cotabato City.
Brig. Gen. Samuel Rodriguez, Bangsamoro Autonomous Region police director, said nine rifles and three pistols were recovered at the scene.
A police official in Maguindanao said it took police officers several hours before neutralizing Talusan and his men.
"Delikado 'yung lugar tapos concrete ang bahay nung target ng operation," the official, who spoke on condition of anonymity, said in a phone interview.