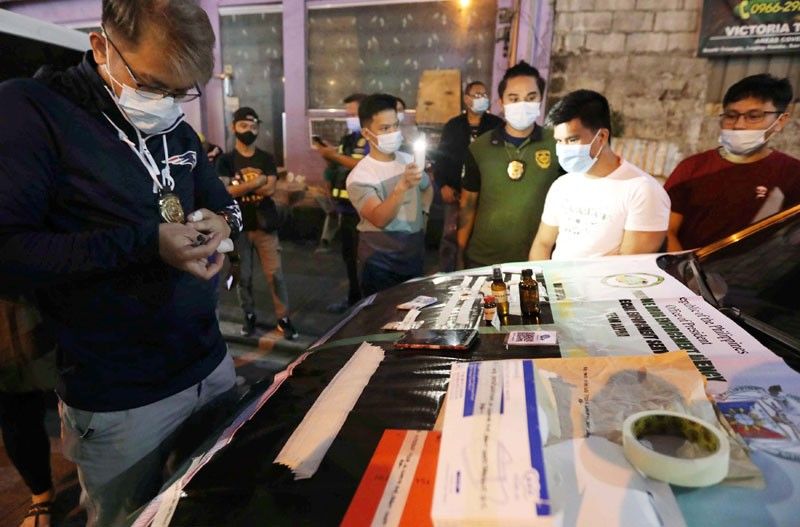 A PDEA officer inspects party drugs allegedly confiscated from Jhun Cabayan during a sting in Quezon City on Wednesday.
Boy Santos
PDEA nabs alleged party drug supplier
MANILA, Philippines — A suspected supplier of party drugs in Metro Manila was arrested by agents of the Philippine Drug Enforcement Agency (PDEA) in Quezon City on Wednesday.
Jhun Cabayan, 33, was apprehended during a sting in Barangay South Triangle, according to PDEA spokesman Derrick Carreon.
Carreon said video footage of the drug transaction showed Cabayan handing over a box of party drugs to a PDEA agent in a car parked along Mother Ignacia Avenue.
Other anti-narcotics officers went inside the vehicle and placed Cabayan under arrest.
The suspect reportedly yielded 23 Ecstasy tablets, 25 flyhigh capsules and 300 milliliter of liquid Ecstasy valued at P171,600.
Cabayan is being held by police on charges of drug trafficking.
In Barangay Sauyo, police arrested a suspected drug dealer and seized P204,000 worth of shabu.
Abdullah Abid, 20, was nabbed by operatives of the Novaliches Police Station 4, Quezon City police chief Brig. Gen. Danilo Macerin said.
Abid reportedly sold a pack of shabu for P19,500 to a police officer who posed as a buyer.
Police said they recovered around 30 grams of shabu and a cell phone the suspect used during the drug deal.
Macerin said Abid was among the nine suspected drug pushers arrested in Quezon City in the past two days.