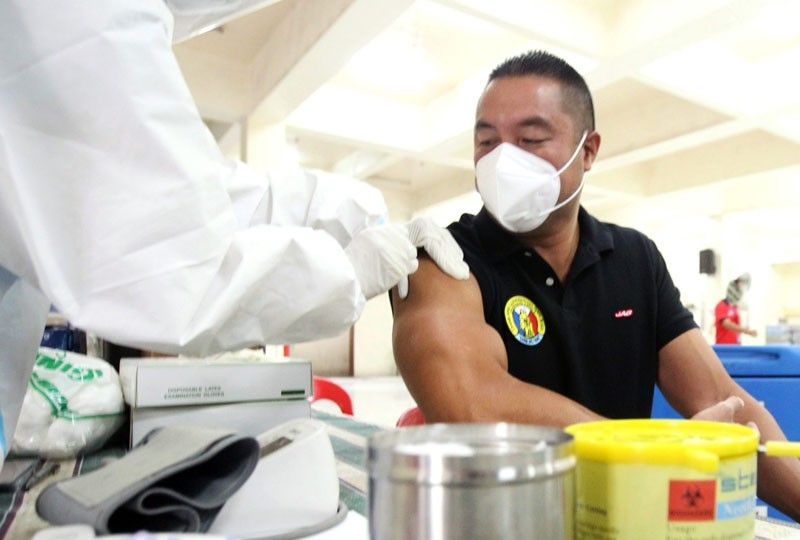 Mayor Francis Zamora leads the mock vaccination at the San Juan gymnasium yesterday.
Ernie Peñaredondo
San Juan to set up vaccination sites
MANILA, Philippines — The San Juan government will set up several vaccination centers in the city in preparation for the arrival of COVID-19 vaccines, Mayor Francis Zamora announced yesterday.
Zamora, who led the city's two-day mock inoculation, said the San Juan gym would be the main vaccination site.
"We chose this venue because it's well-ventilated and big enough to accommodate hundreds of San Juaneños who have signed up for the vaccine. It is also accessible to our constituents," he said.
As of yesterday, 12,177 residents have signed up for the vaccination program.
Zamora said he expects the number of registrants to increase following the announcement of the city's tripartite agreement with British drug manufacturer AstraZeneca for the purchase of COVID-19 vaccines.
"We decided to hold the simulation so that early as now, we can see where the problems may be coming from and address them as soon as possible. We want to be ready when the vaccines arrive and as people can see, we are ready any time," he said.
The city government estimates that it would take less than 20 minutes per person to go through the whole process of the vaccination, from registration to the administering of the shot.
"I will be the first to get the vaccine to increase the level of confidence of our constituents. I will be an ambassador for the vaccination process here in San Juan," the mayor said.
After receiving the vaccine, Zamora said residents would be led to another area for observation for at least an hour.
San Juan initially ordered 100,000 doses of AstraZeneca's vaccine, enough to cover about 50,000 residents. This would be supplemented by more supplies from the national government.
The local government is targeting at least 70 percent of the population or about 84,000 people to voluntarily get the vaccine to achieve herd immunity.