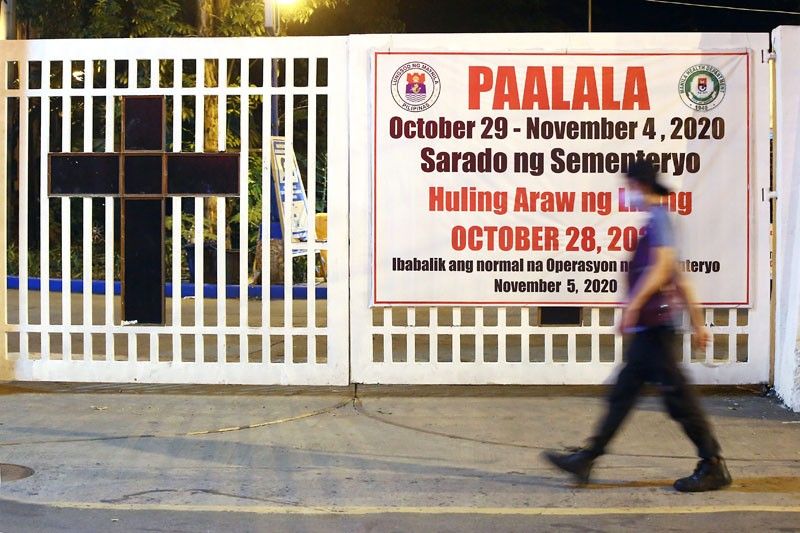 A man walks past the Manila North Cemetery, which will be closed today until Nov. 4 to prevent large crowds during the observance of Undas.
Miguel De Guzman
MANILA, Philippines — Despite the closure of cemeteries beginning today until Nov. 4, the National Capital Region Police Office (NCRPO) said yesterday it would implement strict security measures during Undas.
People have started visiting their dead ahead of the observance of All Saints' Day and All Souls' Day.
"Definitely, people would not be allowed to enter the cemeteries during Undas," NCRPO director Maj. Gen. Debold Sinas said.
Sinas inspected the NCRPO personnel deployed at the Manila North Cemetery and Loyola Memorial Park to check their security preparations.
He said they would deploy more police officers in cemeteries and columbariums in Metro Manila.
At least 113 cemeteries in the metropolis are under the supervision of the NCRPO.
Meanwhile, the local govermment of Pasay said the pre-Undas commemoration in the city was "generally peaceful and orderly."
Pasay public cemetery administrator Laura Leonen said as of Oct. 23, about 2,811 people have visited their dead.
Sta. Clara de Montefalco Cemetery reported over 1,000 visitors.
Mayor Emi Rubiano commended the early cemetery-goers for their cooperation.