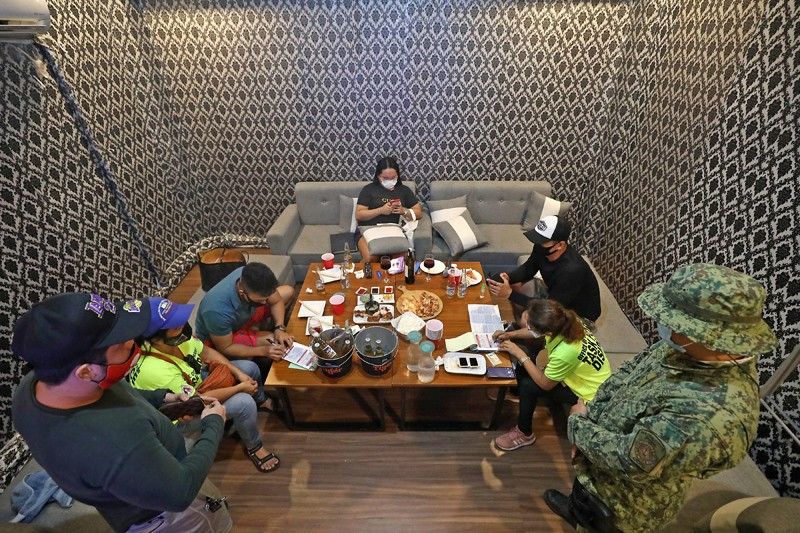 Members of the city government's Task Force Disiplina issue ordinance violation tickets to customers following a raid on a bar along Roosevelt Avenue in Quezon City on Friday night.
Miguel De Guzman
20 nabbed in Quezon City bar raid
MANILA, Philippines — Twenty people were apprehended during a raid on a bar in Quezon City on Friday night for allegedly violating community quarantine guidelines.
Ranulfo Ludovica, who heads the city's Task Force Disiplina, said 17 customers and three workers of D' Meet Up Restobar along Roosevelt Avenue in Barangay San Antonio were rounded up.
Task force members raided the restobar at around 11:20 p.m. after a surveillance operation the previous night revealed the establishment operating beyond the 10 p.m. to 5 a.m. curfew imposed by the city government.
Ludovica said they saw the customers drinking intoxicating beverages while ignoring minimum health standards such as observance of social distancing protocols.
"The restobar has been operating for the past five months," he said in a phone interview.
The bar's management has been also offering unlimited drinks to its customers, a violation of the city government's guidelines setting a limit of two bottles of liquor per customer, he added.
Ludovica said the customers also did not fill contact tracing forms needed to locate COVID-19 patients and their close contacts.
Ordinance violation receipts were issued to the customers while workers of the restobar face charges of violating Republic Act 11332 or the Mandatory Reporting of Notifiable Diseases and Health Events of Public Health Concern Act.
Ludovica said the public should expect more bars to be closed in the coming weeks for similar violations.