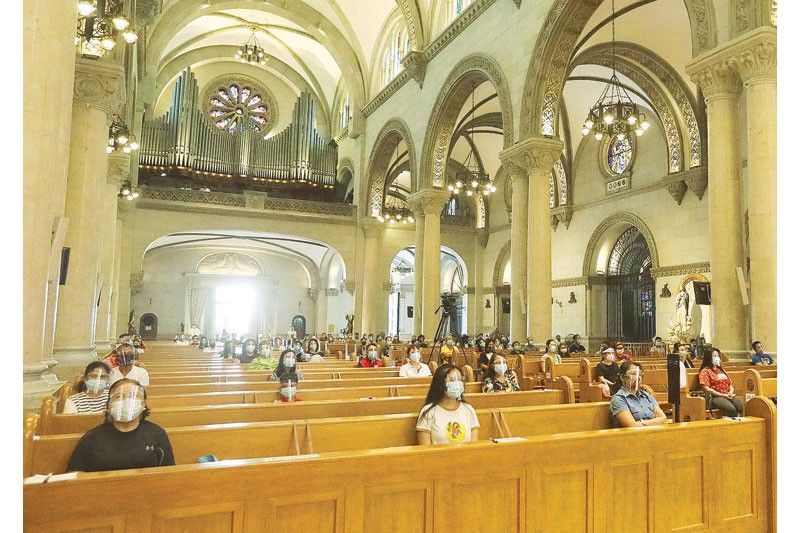 People observe physical distancing during mass celebrated by Cardinal Luis Antonio Tagle at the Manila Cathedral yesterday.
Edd Gumban
COVID-19 free Tagle returns to Cathedral
MANILA, Philippines — For the first time since recovering from COVID-19, Cardinal Luis Antonio Tagle celebrated mass at the Manila Cathedral yesterday.
Churchgoers were surprised when Tagle celebrated the 8 a.m. mass, which was concelebrated by Manila Cathedral rector Fr. Reginald Malicdem and vice rector Fr. Kali Pietre Llamado.
Tagle, 63, returned to the Manila Cathedral eight months after he left for the Vatican to serve as prefect of the Congregation for the Evangelization of Peoples and president of Caritas Internationalis.
He became the first head of a Vatican dicastery who got infected with COVID-19.
In his homily, Tagle discouraged treating unexpected life events as useless, hinting on the subject of abortion due to unwanted pregnancy. He also discouraged treating the elderly as a burden.
On Sept. 10, the former Manila archbishop tested positive for the disease upon arriving in Manila from the Vatican.
The Catholic Bishops Conference of the Philippines reported on Sept. 23 that Tagle had recovered from COVID-19.