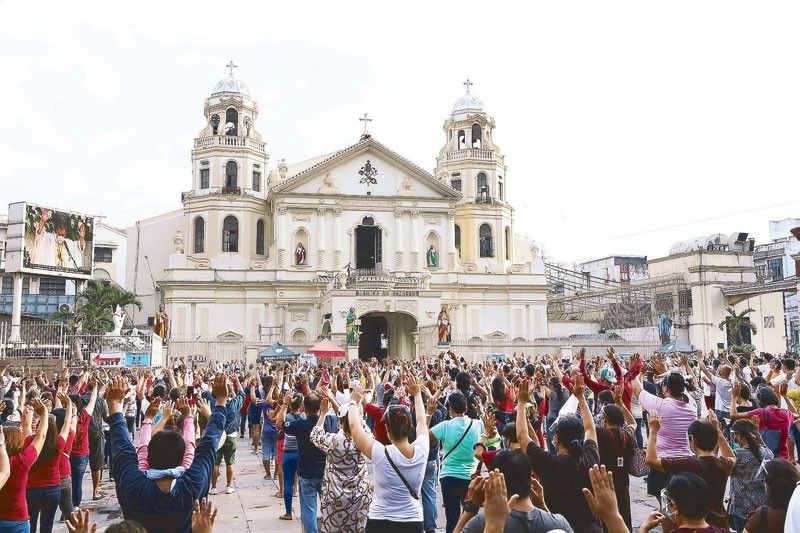 Devotees pray outside Quiapo Church during the first Friday mass yesterday. The traditionally large crowd drew the attention of the PNP, which issued an appeal to Black Nazarene devotees not to flock to the church.
Miguel De Guzman
IATF asked to allow more devotees inside Quiapo Church
MANILA, Philippines — Quiapo Church is asking the Inter-Agency Task Force for the Management of Emerging Infectious Diseases (IATF) to increase the allowed capacity for religious gatherings after throngs of Black Nazarene devotees flocked to the church yesterday morning.
The traditionally large first Friday crowd drew the attention of the Philippine National Police (PNP), which issued an appeal to devotees not to flock to Quiapo Church to prevent transmission of the coronavirus disease.
Parochial vicar Fr. Douglas Badong said the church is big enough to accommodate more devotees inside, but prevailing protocols under general community quarantine (GCQ) allow only a few of them to enter.
As such, a large crowd gathered outside the entrances of the church, violating health protocols such as physical distancing.
Lt. Gen. Guillermo Eleazar, PNP deputy director for administration, said it became difficult for police onsite to enforce minimum health protocols because of the big number of people.
"We appeal to the devotees to just attend mass in their communities instead of going to Quiapo Church," Eleazar said in a text message.
But Badong appealed his case, saying in Filipino: "It's spacious inside the church. We're pleading with the IATF to, perhaps, increase the allowed capacity to decongest the crowd outside."
Badong said the big crowd on the first Friday of October only showed that the people need to hear the word of God and to lean on Him in these trying times of the pandemic.- Emmanuel Tupas