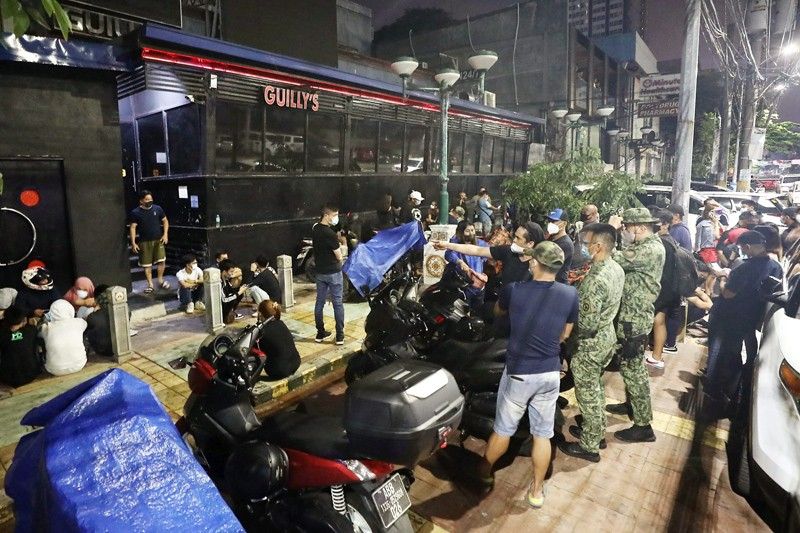 Police officers stand guard over 95 persons arrested for breaking quarantine protocols by partying at Guilly's night club in Quezon City at past midnight yesterday.
Miguel De Guzman
125 held for partying in bars
MANILA, Philippines — At least 125 persons, including more than 30 foreigners, were arrested for partying in bars in Quezon City and Makati since Friday night.
A total of 95 persons, eight of them foreigners, were caught in Guilly's restobar in Barangay South Triangle by Quezon City Police District (QCPD) Station 10 personnel at around 1:20 a.m. yesterday.
Station 10 commander Lt. Col. Bernouli Abalos said among those arrested were South Koreans Leanho Youn, Lee Sea Wun, Park Daehee, Eun Mire and Sim Innseok and Swedes John Gustav Flodman, Johannes Malmrors Wilhelnm and Fried Sebastian Suella.
The Quezon City government served a closure order on the establishment yesterday afternoon following the raid.
Mayor Joy Belmonte said restobars, night clubs and karaoke bars are barred from operating under general community quarantine (GCQ) guidelines.
"You are endangering the lives of your customers and other residents because drinking in public is one of the reasons for the increase in COVID-19 cases in our city," she said.
Under GCQ guidelines, restobars can only operate as restaurants, with limits on the number of customers and the alcoholic drinks that can be served.
While Belmonte recognized the need to jumpstart the city's economy, she said the health and safety of its citizens must not be compromised.
Abalos said police officers were patrolling Tomas Morato Avenue when they noticed several vehicles parked in front of the restobar.
"We were wondering why there were a lot of vehicles in the establishment during curfew," he said in a phone interview.
When police officers entered the restobar, Abalos said they saw people partying while not wearing face masks and disregarding physical distancing protocols.
The restobar's employees were also caught serving liquor.
Abalos said the customers were sent home after they paid fines for violating the ordinance on the mandatory wearing of face masks and breaking curfew.
The establishment's managers face additional charges for violation of Republic Act 11332 or the Mandatory Reporting of Notifiable Diseases and Health Events of Public Health Concern Act.
Police also arrested 24 Chinese who were caught partying in a VIP room of the Xia Long Kan KTV bar along Chino Roces Avenue on Friday night.
The Southern Police District said the Chinese were fined for violating physical distancing protocols and later released.
There were reportedly no plastic barriers between tables, as mandated by the national government for dine-in customers. – Janvic Mateo