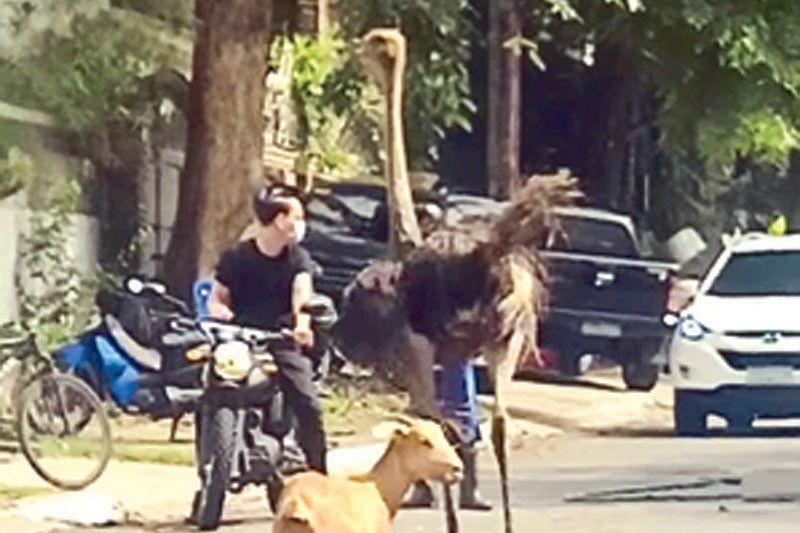 An ostrich, followed by a goat, roams Mapayapa Village 3 in Quezon City yesterday in a screengrab from a video posted on social media by resident Thomas Jarlego.
2 ostriches run loose in Quezon City subdivision
MANILA, Philippines — Two ostriches ran loose at a private subdivision for several hours yesterday before they were caught.
The flightless birds roamed the streets of Mapayapa Village 3 in Barangay Pasong Tamo, causing a stir among residents and visitors of the subdivision.
Facebook user Dino Rivera spotted and took a video of one of the ostriches running down a street while being pursued by a goat.
"I have seen weird things in my life but this one ranks up there," he said in a post on Facebook which has garnered at least 18,000 shares on the social media platform as of yesterday afternoon.
Another video showed an ostrich heading towards an exit before a security guard lowered down the barrier.
The term "Jumanji," referring to social media posts showing the ostriches, trended on Twitter. The term is the title of a film franchise featuring a supernatural board game that unleashes jungle elements on its players.
Aquilles Miralles, desk officer at the barangay hall, said residents had captured the two birds by the time barangay watchmen arrived at the subdivision at around 2:10 p.m.
"We are still trying to find out the identity of the owner," he said in a phone interview.
Ostrich farming is an industry regulated by the Department of Agriculture. Director Ric Calderon of the Department of Environment and Natural Resources' Biodiversity Management Bureau said they intend to help rescue the ostriches and coordinate with the DA's Bureau of Animal Industry.— Janvic Mateo, Rhodina Villanueva