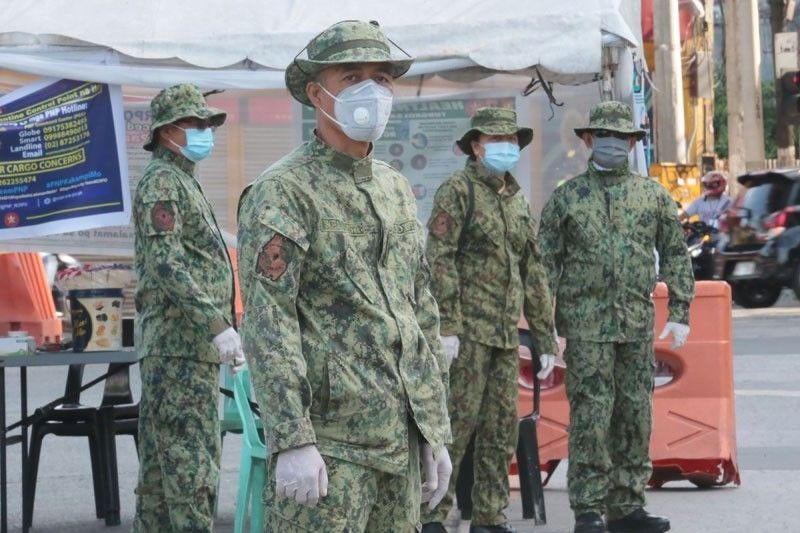 The Philippine National Police, in a report released Friday night, said there are now 2,151 police personnel who have been infected with the virus.
Michael Varcas, file
42 more cops get COVID-19
MANILA, Philippines — Forty-two more police officers have contracted the coronavirus disease 2019 or COVID-19.
The Philippine National Police (PNP), in a report released Friday night, said there are now 2,151 police personnel who have been infected with the virus.
The death toll is at 11 after the death of a 49-year-old policeman assigned at the Northern Police District last July 24. A confirmatory test revealed he was infected with COVID-19.
A total of 823 or about 38.26 percent of the patients have recovered. At least 3,371 other police personnel are under observation after they exhibited symptoms of the disease or interacted with COVID-19 patients.
Twenty-two of the patients are assigned in Metro Manila, including four at the PNP headquarters at Camp Crame in Quezon City.
Six personnel of the Highway Patrol Group are also among the newly infected patients. Four other patients are assigned in Zamboanga peninsula, two in Central Luzon and two in Calabarzon.
Three personnel of the Health Service were also infected while the Police Security and Protection Group, Special Action Force and Intelligence Group have one case each.
To address the surge in COVID-19 infections, the PNP will streamline operations of all its fronline service offices at Camp Crame starting tomorrow.
PNP chief Gen. Archie Gamboa approved the measure, which aims to restrict the movement of civilians within the camp to limit the spread of COVID-19.
"We see that there's a need to adopt more measures and protocols designed to extensively reduce, if not eliminate, person-to-person transactions in Camp Crame, particularly among the many PNP frontliner services, to contain the threat of COVID-19 resurgence inside Camp Crame," he said in a statement.
Under the new system, all frontline service units and offices shall reduce the number of clients, who shall be given color-coded queue cards.
Among these offices are the Firearms and Explosives Office, Supervisory Office for Security and Investigation Agencies, Retirement and Benefits Administration Service, Public Safety Savings and Loan Association Inc. and the Armed Forces of the Philippines Savings and Loan Association Inc.
From thousands of visitors everyday, the new scheme will reduce the number to an average of 950 clients a day.
All Camp Crame-based units are also required to regularly disinfect their offices. A curfew from 8 p.m. to 5 a.m. remains in effect at the camp as a preventive measure against COVID-19.