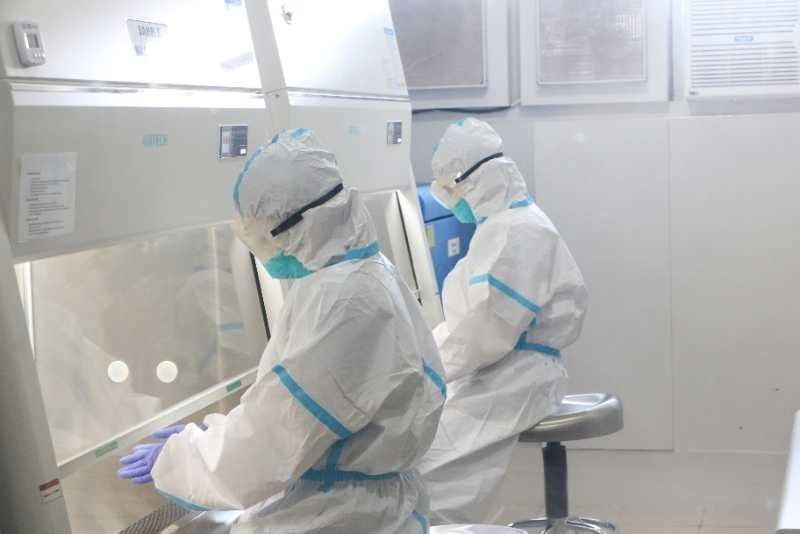 Photo shows employees of the new coronavirus testing laboratory in San Fernando, Pampanga.
Release/Chinese Embassy in Manila
Pampanga bars visitors over COVID-19 fears
SAN FERNANDO, Pampanga, Philippines — Alarmed by rising coronavirus disease 2019 or COVID-19 cases, Pampanga Gov. Dennis Pineda yesterday ordered barangay captains to bar the entry of non-residents in their respective areas.
The provincial health office said the number of confirmed cases rose to 332 yesterday even as its quarantine facilities reached full capacity.
Pineda reminded local officials to adopt stricter measures, including localized lockdowns, to prevent the spread of the disease.
In a meeting with Pampanga mayors on Friday, Pineda said the no entry rule should be implemented "except in life-or-death situations."
He said the movement of residents who work in Metro Manila should be monitored.
Meanwhile, Bulacan, which reverted to general community quarantine yesterday, logged 123 cases on Friday, the highest in one day.
There are now 1,386 cases in the province, 912 of them active.
Mayor Noel Anthony Geslani of Malasiqui in Pangasinan placed Barangays Talospatang and Warey on lockdown until Aug. 12 after two residents were infected.
In Zamboanga City, a newborn is among the 48 new cases. The baby is in stable condition.
The city is experiencing a second wave as cases rose to 594 as of Friday, according to city health officer Dulce Amor Miravite. – Ramon Efren Lazaro, Eva Visperas, Roel Pareño