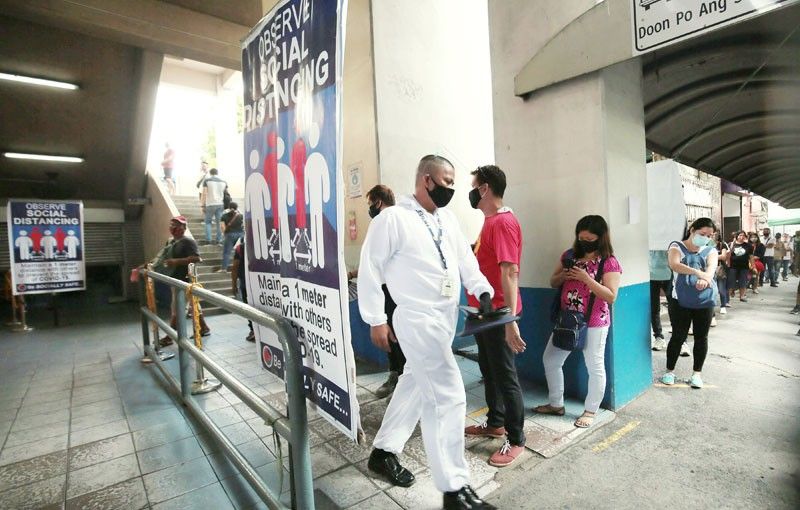 Commuters wait in line at the MRT-3 North Avenue station in Quezon City yesterday.
Michael Varcas
Ghio Ong
(The Philippine Star) - July 14, 2020 - 12:00am
MANILA, Philippines – Commuters of the Metro Rail Transit Line 3 are prohibited from speaking and answering phone calls inside MRT-3 trains, the management announced yesterday as the rail line resumed operations after a five-day shutdown as hundreds of its personnel tested positive for the coronarivus disease 2019 (COVID-19).
In an advisory, the MRT-3 said the policy seeks to curb the transmission of the virus among passengers.
"To avoid the possible spread and infection of the virus among commuters, answering phone calls and talking inside the trains are now prohibited," the advisory read.
The MRT-3 also reminded passengers to wear face masks at all times to prevent droplets from spreading in the trains when speaking, sneezing or coughing.
Employees of the Department of Transportation (DOTr) distributed health declaration forms to commuters before they entered the stations and boarded the trains as part of contact tracing efforts.
Commuters are required to state on the health declaration forms their name, address, contact number, station entry, date and time, temperature, and whether they are manifesting symptoms of COVID-19.
According to the DOTr, the MRT-3 management implemented the measures to ensure the safety of the passengers as well as their employees.
Of the 3,300 personnel of the MRT-3 who underwent swab tests, 281 tested positive for the virus as of July 11.
A majority of those who contracted the disease were depot personnel and station employees, including ticket sellers.
The management ordered station employees to wear personal protective equipment, face masks, face shield and gloves.
With the partial resumption of the railway's operations, the MRT-3 deployed 13 trains yesterday – down from the average of 16 to 19 trains when the government allowed public transportation to reopen in Metro Manila last month.
With fewer trains and limited capacity, MRT-3 passengers endured long lines.
Last week, the Light Rail Manila Corp., private operator of the Light Rail Transit Line 1, banned commuters from talking inside the trains, especially those not wearing a face mask.