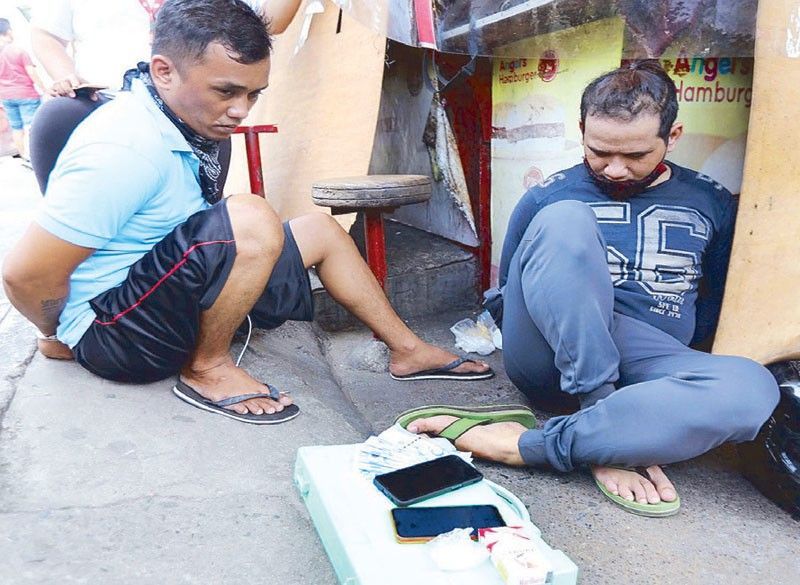 Regie Martin and Levi Villamor sit on the pavement along Kamias Road in Quezon City following their arrest during a drug sting yesterday.
Boy Santos
P1 million shabu seized from 2 minors in Marikina
MANILA, Philippines — Police seized at least P1 million worth of methamphetamine hydrochloride or shabu from two minors in a sting in Marikina City on Monday night.
Marikina police chief Col. Restituto Arcangel said they arrested two 16-year-olds who attempted to sell P7,000 worth of shabu to undercover police officers in Barangay Concepcion Uno.
One minor was a student while the other worked as a house helper. At least 150 grams of shabu valued at P1.02 million was confiscated from the teenagers, who were turned over to the city's social welfare office.
The operation stemmed from a tip by an informant about the "rampant illegal activities of children in conflict with the law" in the area, police said.
Authorities have yet to establish where the minors sourced their illegal drugs.
Also in Marikina, Rolando Barillo, 45, and Jalil Cosin, 40, were reportedly caught with 13 grams of shabu valued at P88,400 in Barangay Tumana on Monday.
In Quezon City, police seized around 11.19 grams of shabu with a street value of P130,000 from Regie Martin and Levi Villamor during a sting in Barangay East Kamias yesterday.