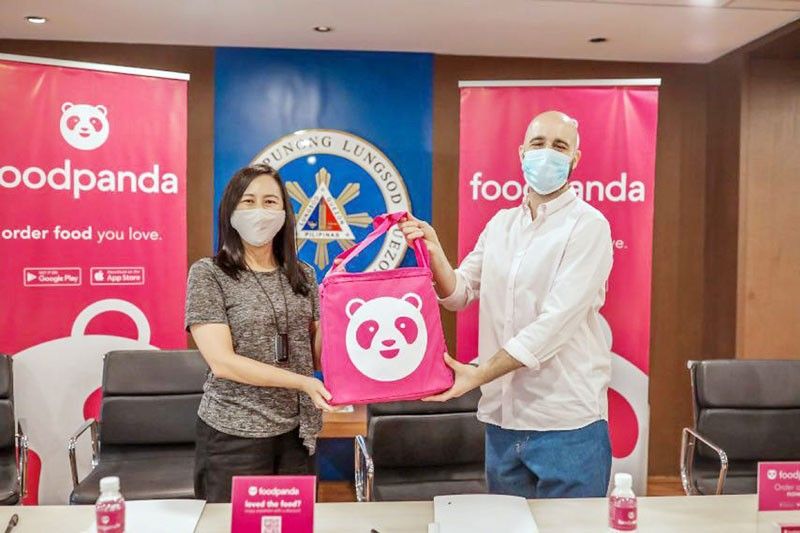 Mayor Joy Belmonte and Daniel Marogy, managing director of foodpanda Philippines, lead the launch of a program yesterday to provide tricycle drivers an additional source of income.
STAR/File
Quezon City, foodpanda partner to support displaced trike drivers
MANILA, Philippines — The Quezon City government said yesterday it has partnered with food delivery app foodpanda to provide support to hundreds of tricycle drivers who lost their livelihood due to the coronavirus disease pandemic.
A total of 500 tricycle drivers would be selected for the pandaTODA initiative in Quezon City, which would train them to become partner riders for an initial period of three months.
They would be provided with uniforms and thermo bags free of charge, and would have the option to continue or forego the engagement with foodpanda after the prescribed period.
"We are fortunate for this partnership with foodpanda as this will help alleviate the situation of our tricycle drivers whose livelihoods were affected by the pandemic," said Mayor Joy Belmonte.
"They will have sustainable income because there is a growing demand for food delivery services from people at home," she added.
Under the agreement, the city government will screen tricycle drivers who meet the requirements as foodpanda delivery riders and assist them in securing work permits and other relevant passes to allow them mobility across Metro Manila.
Mona Yap, officer-in-charge of the city's small business and cooperatives development and promotions office, noted how food delivery has become an essential service in the time of the pandemic.
"As the threat of the virus continues, people would want to keep staying at home as much as possible to minimize the risks to their health and lives. So we want to make sure that the tricycle drivers the city endorsed are well able and qualified to safely deliver foodpanda's service to its customers," she added.
Daniel Marogy, managing director of foodpanda Philippines, said they would continue to expand their project despite the transition of Metro Manila to modified enhanced community quarantine as there are still tricycle drivers who cannot earn a living.
He noted that only around 50 percent of tricycles in Metro Manila have been allowed to operate again.
"We are glad that many have seen the value of our project and approached us with a request to be our next pandaTODA partners. Our intent is to accommodate as many tricycle drivers as our project can," he added.