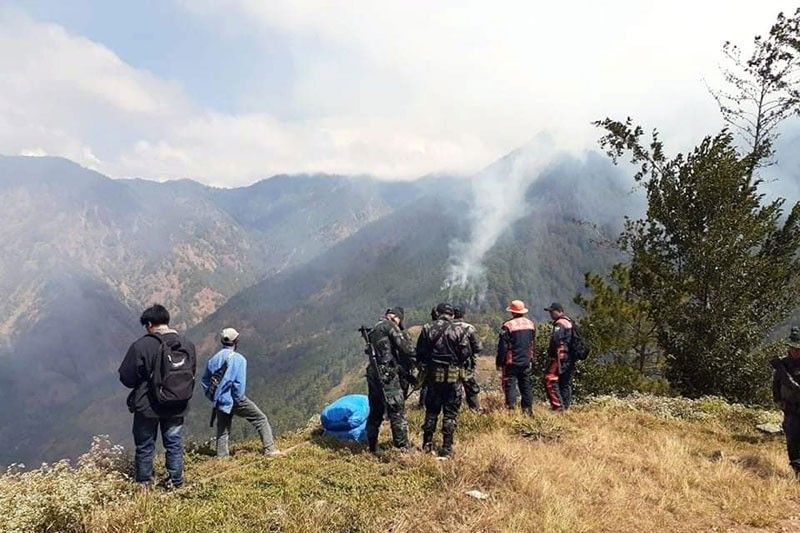 Firefighters, volunteers and police officers watch a fire that razed the jungles in Kabayan, Benguet yesterday, in this handout photo.
Forest fire hits Benguet anew
TUGUEGARAO, Philippines – Another fire broke out in the forest of Kabayan, Benguet and was feared to spread to Mt. Pulag National Park yesterday morning.
The blaze occurred almost a week after a nine-day fire that razed some 150 hectares of pine trees in the same area was declared out on Tuesday.
Firefighters had difficulty getting near the blaze in Sitio Tinuping, Barangay Eddet as the trail was steep and rocks were rolling down the burning mountain, according to Capt. Peter Camsol Jr., Kabayan townpolice chief.
Camsol said the fire appeared to be going downward.
"All we could do is watch the fire from a distance because the area is inaccessible to fire trucks and there are no other means to get near the site," Fire Officer 2 Billyduck Palasi of the Kabayan Bureau of Fire Protection told journalists.
Authorities have yet to determine the cause of the blaze.
The first fire originated in Sitio Bulok, Barangay Adaoay on Feb. 11. It spread across the mountain and reached the villages of Anchokey and Kabayan near Mt. Pulag where it was contained.
By the time the nine-day fire was declared out, another was raging on its third day in the forest of Barangay Ambassador in Tublay town.
Arnold Battung of the Department of Environment and Natural Resources in Cagayan Valley explained why the forests in Benguet are prone to wildfires despite the cold climate.
Battung said the coniferous forests in the province are teeming with pine trees, which he said have flammable sap.
He said the probability of a fire is higher once a lit cigarette is thrown or left in the area.