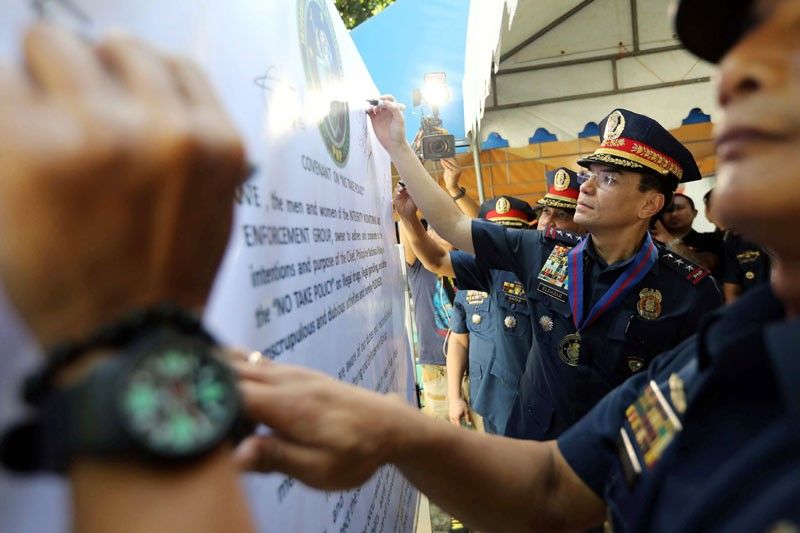 PNP deputy chief for operations Lt. Gen. Guillermo Eleazar signs a covenant against payoffs yesterday.
Boy Santos
Cops intensify campaign vs illegal gambling
MANILA, Philippines — Police have intensified the crackdown against all forms of illegal gambling following the recent relief of several chiefs of police in Metro Manila.
Field commanders of various police forces are on their toes after the heads of three city police and eight police community precincts in Metro Manila were sacked from their posts for failing to curb illegal gambling activities in their jurisdictions, according to Lt. Gen. Guillermo Eleazar, PNP deputy chief for operations.
"PNP chief Gen. Archie Francisco Gamboa is serious in this campaign. The relief of the commanders sent a clear message and impact on other unit commanders," Eleazar said during a ceremony for the destruction of illegal gambling machines at Camp Crame yesterday.
Gamboa imposed a "no take policy" on all police officers, who would be relieved and charged administratively if caught accepting bribes from gambling operators.
Fifty-six video karera and fruit game machines seized by operatives of the PNP Integrity Monitoring and Enforcement Group (IMEG) were destroyed during the ceremony.
The machines were seized during operations beginning Friday in depressed areas in Caloocan, Muntinlupa and Pasay, according to IMEG chief Col. Ronald Lee.
The IMEG has yet to determine if police officers were involved in illegal gambling operations in areas where the machines were seized.