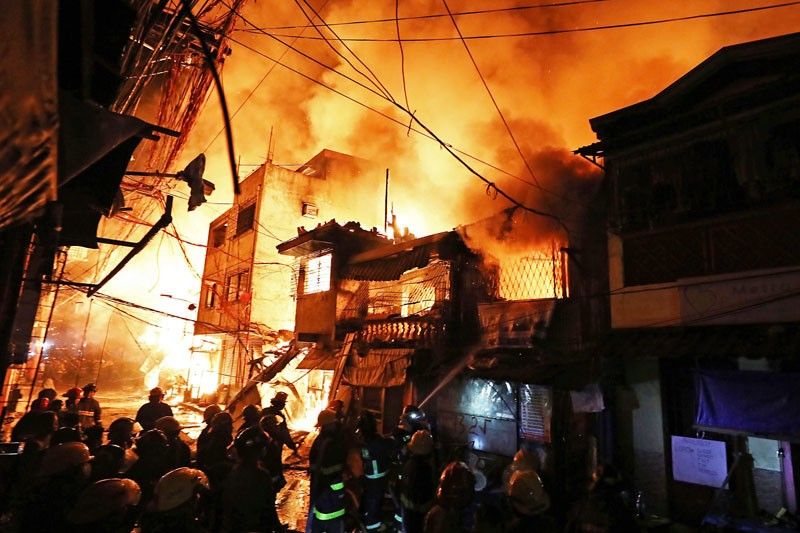 Firefighters and residents work to put out a fi re in Tondo, Manila at past midnight yesterday.
MANILA, Philippines — Five people were injured and at least 120 families lost their homes after a fire broke out in a residential area in Tondo, Manila at past midnight yesterday.
Robert Santilises, 41; JL Data, 27; and Fire Officer 2 Morishima Bulasa, 27, were among those who suffered minor injuries when the fire broke out at Rolando Viray's house along Lico street just before 1 a.m.
The blaze destroyed at least 75 homes in less than two hours, according to the Manila fire department.
Senior Fire Inspector Rodolfo Dinaga said the fire reached Task Force Delta before it was put under control at around 4:30 a.m. and was finally put out at past 6 a.m.
The fire destroyed at least P1.5 million, he said, adding that the flames nearly razed the Antonio Luna Elementary School.
Fire hits PSE building
In Pasig, a fire hit the Philippine Stock Exchange (PSE) Center building yesterday.
City police chief Col. Moises Villaceran Jr., said the fire that hit the PSE building started at around 9:30 a.m. and was caused by a lighted cigarette thrown into a trash can in a restroom on the 26th floor.
"The trash can was filled with tissue paper," he said.
Employees were evacuated while firefighters were putting out the fire. Villaceran said there were no casualties in the fire, which was doused at around 9:50 a.m.