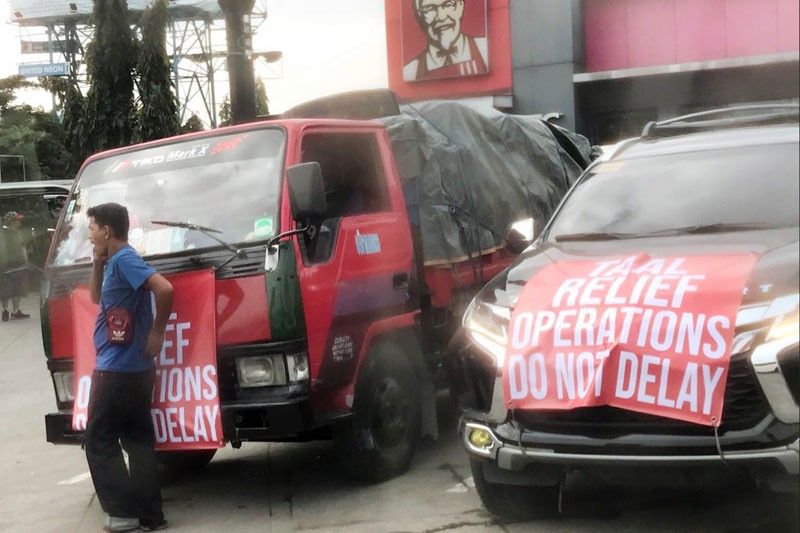 Vehicles carrying relief goods are stuck in traffic along the South Luzon Expressway yesterday morning.
Images posted on Twitter by @nikkypot.
Vehicles with aid for Taal evacuees clog SLEX
MANILA, Philippines — Slow-going traffic has been a usual fixture along the South Luzon Expressway (SLEX) during weekends, but yesterday's traffic jam had netizens applauding.
Vehicles, both from government agencies and private individuals, carrying relief goods for those affected by the eruption of Taal Volcano in Batangas and Cavite were part of a kilometers-long gridlock along SLEX's southbound lanes.
Netizens lauded the initiative on Twitter, saying the spirit of "bayanihan" is very much alive.
A netizen called the heavy traffic "very good."
"It's so heartwarming to see SLEX stopovers filled with people and cars and relief goods. Bayanihan is real and it's one of the only things that's keeping us strong right now," one said.
"You won't mind being stuck in a traffic jam in SLEX. Goosebumps! They are mostly sending donations to Cavite and Batangas," another added.
Meanwhile, Makati Mayor Abby Binay said yesterday the city's veterinary services department (VSD) will rescue and provide aid to abandoned animals in Batangas.
Binay said an impounding vehicle will be deployed to Bauan town today together with VSD personnel who will distribute dog and cat food, vitamins, anitibiotics and antiseptic solutions to local officials.
VSD chief Dr. Katherina Mangahas said the impounding vehicle has eight cages that can accommodate up to 24 medium-sized dogs.
Hundreds of pets and livestock were reportedly abandoned in several towns in Batangas.
The Taguig City government, on the other hand, yesterday provided free medical assistance and relief packs to over 122 families from Laurel town in Batangas who were displaced by the eruption.
Personnel from the city's health office held the medical mission at an evacuation site in Splendido Taal Country Club and set up an onsite pharmacy for those needing medicines and supplements.
They also staged parlor games and magic and puppet shows for the children.
After all the evacuees were given medical help, they then received food packs, bottles of drinking water, hygiene kits, beddings and N95 masks, among others.
Each family also received water jugs and packs of sodium hypochlorite, a liquid that purifies water for drinking purposes.
The medical and relief effort was in cooperation with the offices of Sen. Pia Cayetano, Speaker Alan Peter Cayetano and Taguig second district Rep. Lani Cayetano.