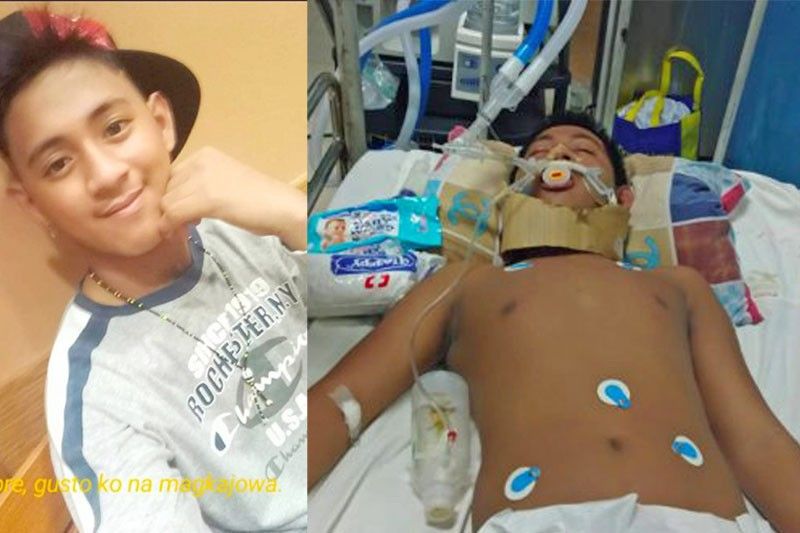 Images at right show Dela Cruz in happier times and while confined at the Philippine General Hospital.
Ronalyn dela Peña
Kin call for justice over boy's death in Rizal Park
MANILA, Philippines — The family of a 16-year-old boy who was electrocuted in Rizal Park last week is calling for justice, claiming they never received any financial assistance from the city government.
Ronalyn dela Peña yesterday said she visited the office of Mayor Isko Moreno twice to ask for help – when her brother Rene Boy dela Cruz was fighting for his life at the hospital on Dec. 10 and on Friday, days after he died at the Philippine General Hospital on Dec. 11 due to electrocution.
Dela Peña said she was told the mayor was out of his office during those times.
"I'm ashamed to go there again. We visited him twice already but for nothing," she said in Filipino.
The STAR has reached out to Moreno, who said the National Parks Development Committee (NPDC), which runs Rizal Park, did not inform his office of the incident.
"But the city (government) can help," the mayor said as he asked for the family's address.
Rene Boy was in Rizal Park with a friend on Dec. 6, playing with a pet parrot. On their way home he touched a lamp post to jump over a fence in front of the Quirino Grandstand. He collapsed.
When he was rushed to the hospital, doctors determined that he was electrocuted when he touched the lamp post, Ronalyn said.
Rene Boy also suffered a fractured skull when he collapsed.
Although representatives from NPDC assisted the family when Rene Boy was in the hospital, they could not commit to shelling out money for the boy's hospital and funeral expenses, Ronalyn said.
The family spent P76,000 when Rene Boy was initially confined at the Manila Doctors Hospital and P80,000 for the funeral.
The NPDC donated P10,000 for Rene Boy, Ronalyn said, but noted that the money "is not enough. A life was lost. I wish there would be justice for my brother's death."
Rene Boy worked as a helper at a laundry shop, and sent his earnings to his mother in Nueva Ecija.
He wanted to go home to the province for his mother's birthday in January to surprise her, Ronalyn said.
The family brought Rene Boy's remains to his hometown of Muñoz, Nueva Ecija.