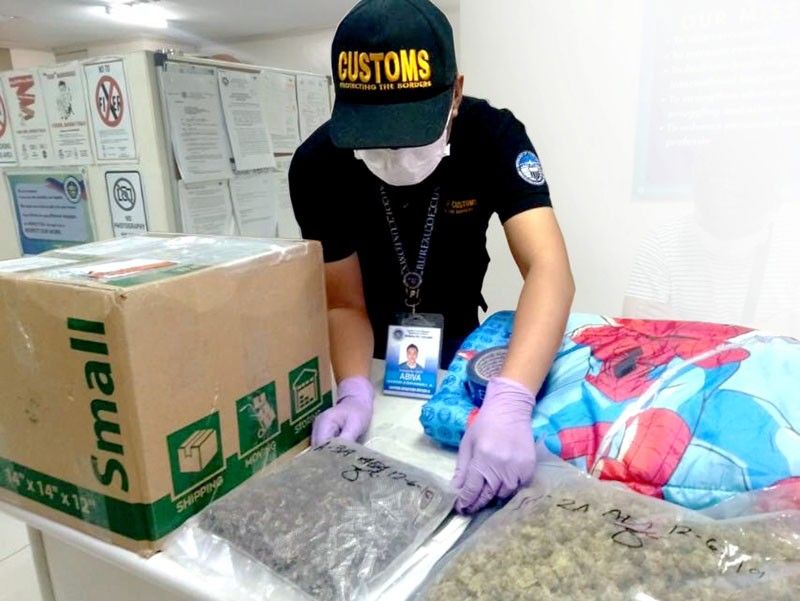 A Customs agent inspects 1.05 kilos of kush marijuana intercepted at the NAIA Central Mail Exchange Center the other night. The package, which came from the US, had been declared as a Spider-Man sleeping bag for children.
Rudy Santos
P1.8 million high-grade marijuana intercepted at NAIA
MANILA, Philippines — A package containing P1.8 million worth of high-grade marijuana was intercepted by the Bureau of Customs (BOC) and the Philippine Drug Enforcement Agency at the Ninoy Aquino International Airport (NAIA) Friday night.
BOC district collector Carmelita Talusan said the package was seized after authorities noticed vacuum-sealed plastic pouches containing 1.05 kilograms of kush.
Talusan said the package arrived at the Central Mail Exchange Center (CMEC) of the NAIA on Friday, supposedly containing "Marvel Comics" and "Child Sleeping Bag" from the CMEC in California.
The sender was identified as a certain James Barstow of 4318 Pleasant Hill Road, Kelso, Washington.
A few minutes after the inspection, Talusan said that authorities arrested a certain Joseph Marck Tamo of Taguig City who claimed the package at the NAIA CMEC.
Tamo was detained for violating Republic Act 9165 or the Comprehensive Dangerous Drugs Act of 2002 and Republic Act 10863 or the Customs Modernization and Tariff Act.