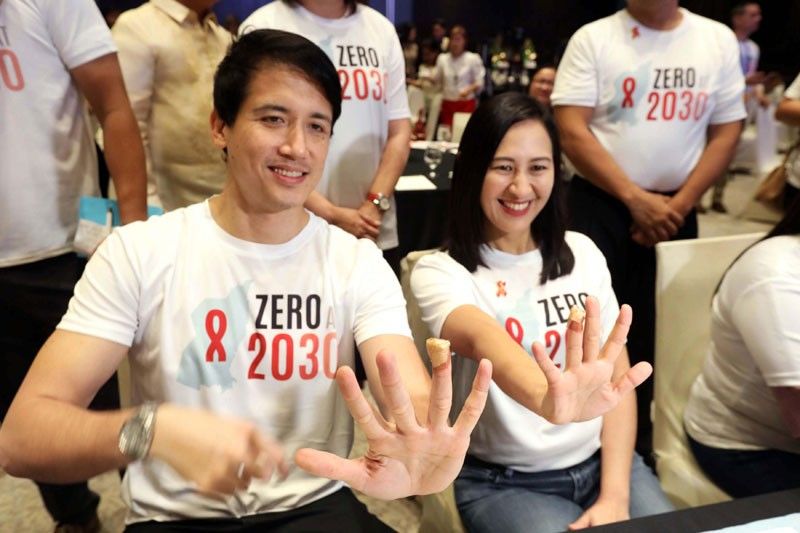 Quezon City Mayor Joy Belmonte and Vice Mayor Gian Sotto get tested for HIV yesterday.
Boy Santos
Belmonte leads HIV summit
MANILA, Philippines — Amid the rising cases of human immunodeficiency virus in Quezon City, Mayor Joy Belmonte yesterday led the HIV testing of city officials as the local government launched an aggressive 10-year campaign to prevent the spread of the disease.
She spearheaded the "Quezon City HIV Summit: #ZeroAt2030" along with Vice Mayor Gian Sotto.
Belmonte and other city officials got tested for HIV during the summit.
She admitted that HIV patients continue to suffer from stigma and discrimination.
"This is a campaign that requires a whole of community approach. Tingin ko dapat hindi na masyadong maingat sa sensitivities kasi panahon na para tugunan ang deadly disease, which could be avoided with the proper information, treatment and tools," Belmonte told reporters.
The local government is targeting zero new HIV infections, discrimination and AIDS-related deaths by 2030.
"The campaign includes wide access to condoms, HIV testing, availability of medications needed to combat HIV and stabilize one's immune system, and other methods that we could possibly apply to ensure that the disease is controlled," Belmonte said.
The mayor said while condom use has been opposed by some sectors, it is still an important tool to prevent HIV.
Belmonte said the city government promotes the use of condoms as a form of HIV prevention not only in health centers but also in malls and convenience stores.
Quezon City is also looking to integrate the anti-HIV campaign in high schools as data showed that this is one of the major issues facing teenagers as young as 14 years old.
"The youth are ready and aware. It is up to the city government to make it easy for them to be tested, to access services and take away the discrimination attached to the disease," Belmonte said.
The cases of HIV in Quezon City reached 505 for the first seven months of the year. Of the number, 486 were males and 19 females.
Data showed that from the new cases tallied, 321 were transmitted through male-to-male sex, 116 through males having sex with both males and females and 61 through male-female sex.
Belmonte said the Philippines is going against the worldwide downtrend in new HIV cases, which she attributed to the lack of information and access to tools to combat the disease.
"QC has a reputation of being not in denial, but accepting the realities of the time. We are for informing people and helping them make decisions based on their religion and culture," she said.