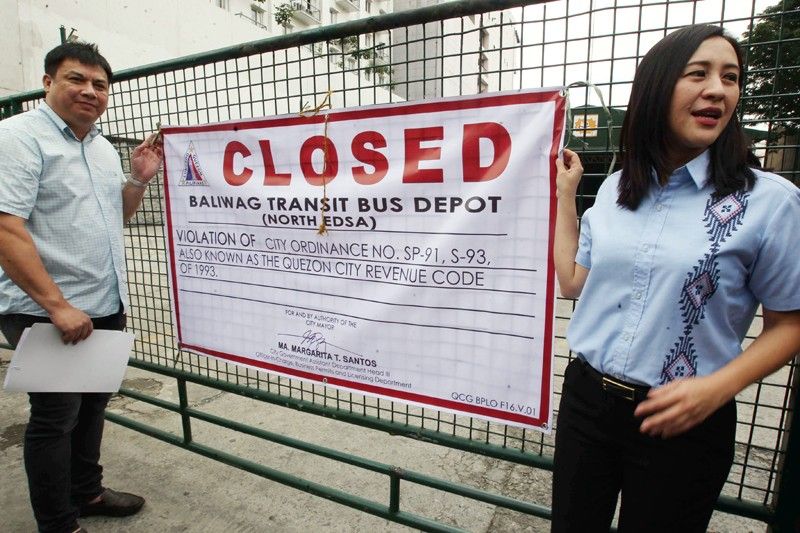 Quezon City Mayor Joy Belmonte and MMDA general manager Jojo Garcia lead the closure of the Baliwag Transit bus depot on North Avenue yesterday.
Boy Santos
Belmonte, MMDA shut down bus depot
MANILA,Philippines — Quezon City Mayor Joy Belmonte yesterday ordered the closure of a bus depot for allegedly submitting falsified documents.
Belmonte and Metropolitan Manila Development Authority (MMDA) general manager Jojo Garcia led the closure of the Baliwag Transit bus depot, which was being used as a terminal, along North Avenue.
According to Belmonte, the bus company violated the city's revenue code after they found out they have been using the same documents from their terminal in E. Rodriguez for their depot in North Avenue.
"Hindi ibig sabihin meron silang Baliwag sa E. Rodriguez ay covered ito. Kailangan may iba itong papel," she told reporters in an interview.
"For me, that is already falsification of public documents and an attempt to deceive the city government," Belmonte added.
Belmonte ordered Baliwag Transit to apply for another special use permit, but clarified it does not mean they will automatically grant it.
She said it is up to the city council whether to grant a permit to the bus company for the reopening of its depot along North Avenue.