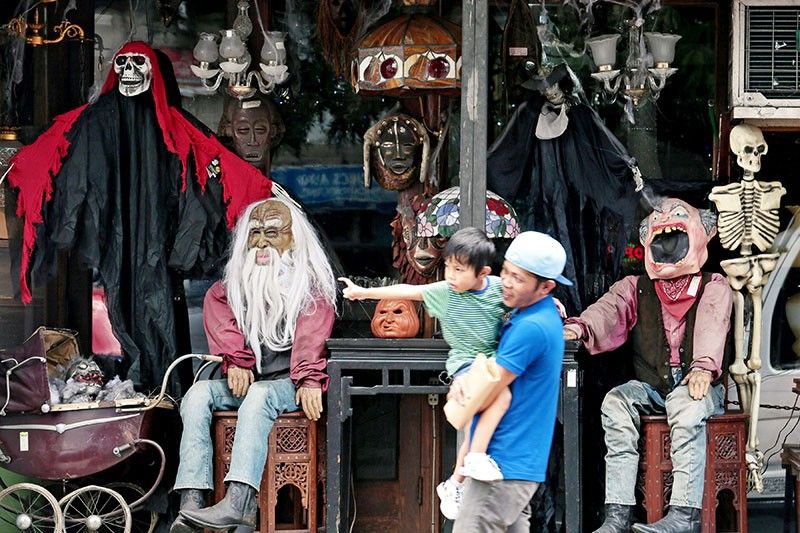 Halloween décor and costumes are sold at a shop in Kamuning, Quezon City ahead of All Saints' Day.
Michael Varcas
Number coding lifted for Undas 2019
MANILA, Philippines — The number coding scheme will be lifted in Metro Manila in anticipation of the surge of motorists going to the provinces during All Saints' Day, the Metropolitan Manila Development Authority (MMDA) announced yesterday.
The Unified Vehicular Volume Reduction Program will not be implemented for provincial buses from Oct. 31 to Nov. 4, MMDA Chairman Danilo Lim said.
The number coding scheme for both private and public vehicles is automatically lifted on Nov. 1, which is a regular holiday.
"We will subject bus drivers to random breath analyzer tests to determine if they are under the influence of alcohol," Lim said.
He said a "no day-off, no absent" policy for traffic enforcers would be implemented.
The MMDA said it would deploy 2,300 personnel around Metro Manila to assist cemetery goers.
Roads closed for repairs
Meanwhile, motorists in Metro Manila should brace for monstrous traffic jams this weekend as the Department of Public Works and Highways (DPWH) closed several roads for repairs starting last night.
DPWH personnel started rehabilitation work last night from Prime Rose to Kingfisher streets along Quirino Highway in Quezon City as well as Rebisco Road to SB Diversion Road on General Luis street.
The southbound and northbound lanes of EDSA were also closed to vehicular traffic: National Shrine, West Avenue, Estrella, Camp Crame gate, Aurora Boulevard and New York street.
The DPWH said Landragum street to Samar street along G. Araneta Avenue were closed to motorists.
Also closed for rehabilitation are Maharlika street, Elliptical Road, Selecta Drive along A. Bonifacio Avenue, Tandang Sora Avenue and C-5 Road.
The road repairs will be finished on Monday morning, the DPWH said.