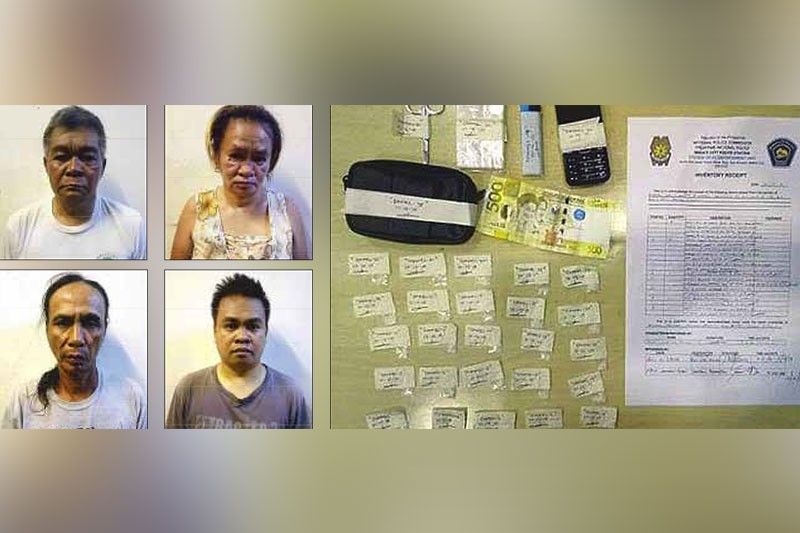 The Makati City police released yesterday the mugshots of (clockwise, from top left) Willy Yasis, Enrequita Mojica, Willy Yasis Jr. and Jerry Mojica following their arrest for allegedly selling illegal drugs. Photo at right shows some of the items seized from the suspects.
Family of 4 caught in Makati drug bust
MANILA, Philippines — Four members of a family were arrested in a drug sting in Makati City on Thursday night, police said yesterday.
Willy Yasis, 62; his wife Enrequita Mojica; his son Willy Yasis Jr. and his brother-in-law Jerry Mojica were apprehended in their house on Palawan street in Barangay Pitogo.
The target of the sting, identified only as "Pidoy," escaped.
Col. Rogelio Simon, city police chief, said anti-drug operatives staged the drug bust after one of Yasis' relatives and their neighbors reported the alleged drug transactions "of the whole family."
Fifty-three sachets of methamphetamine hydrochloride or shabu with a street value of P26,500, P500 marked money and drug paraphernalia were seized from the suspects.
Yasis said he never did drugs but his son admitted to using and selling drugs.
Jerry claimed he lost P39,000 cash during the sting and blamed the policemen who conducted the operation.