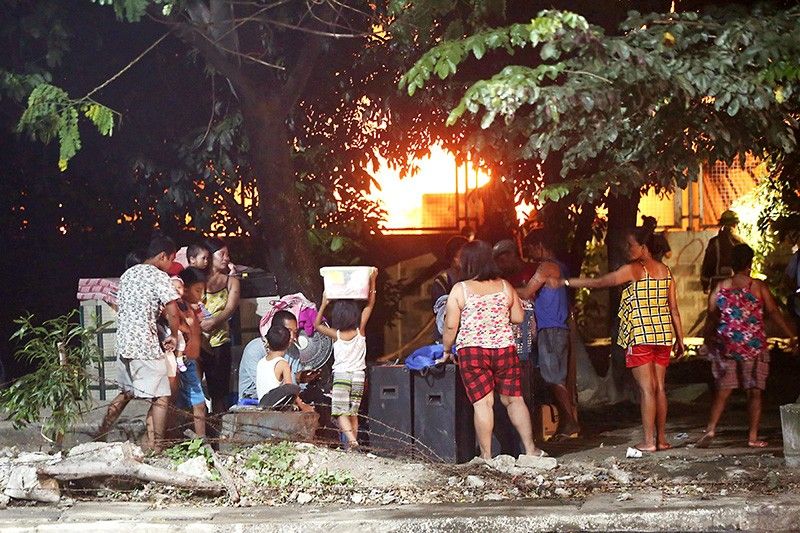 Residents guard the belongings they salvaged while firefighters try to extinguish a fire that broke out at the Navotas fish port before dawn yesterday.
Miguel de Guzman
Navotas fish port fire: 1 dead, 700 families homeless
MANILA, Philippines – A man died and hundreds of families were left homeless in a fire that broke out at the Navotas fish port before dawn yesterday.
The three-hour fire that hit Market 3, Barangay Northbay Boulevard North reached fifth alarm and was put out around 6 a.m. yesterday.
Navotas fire marshall Bartolome Biliran said the charred body of James Bantasan, 24, was found near their residence and identified by the family.
Bantasan failed to flee the fire because he was under the influence of alcohol, Biliran said.
Residents Mercy Abero and Lester Razon were injured.
The fire was massive because the houses were made of light materials and used oil and tires littered the area, Biliran said, adding that this was the third time Market 3 was razed by fire.
City disaster risk reduction and management officer Vonne Villanueva said the affected 783 households were provided hot meals, relief goods, sleeping packs, hygiene kits and temporary shelter while they are housed at the basketball court.
Probers are still investigating the cause of the fire, which destroyed P1 million worth of property.
Navotas Mayor Toby Tiangco condoled with Bantasan's family as he called for donations to the fire victims.
"The city government would be honored to serve as conduit for your donations," he said.