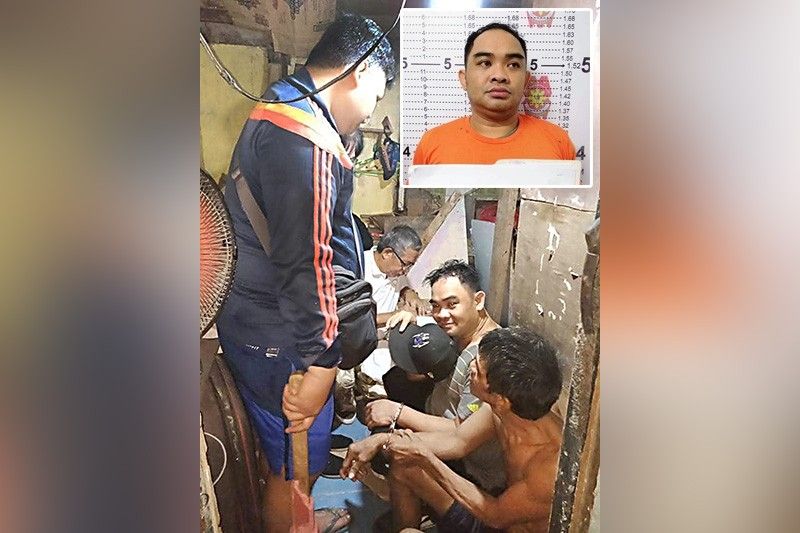 Police officers arrest Andy Jamolin (inset) and Joseph de Vera at the latter's house in Pasay City on Tuesday. Images courtesy of the Pasay police.
Ex-rapper nabbed for drugs
MANILA, Philippines – A former FlipTop rapper was arrested for illegal drugs in Pasay City on Tuesday, police said yesterday.
Andy Jamolin, also known as Andy G, was apprehended in the house of Joseph de Vera, who is on the city's drug watchlist, in Barangay 156 after police officers received a tip.
Three sachets of methamphetamine hydrochloride or shabu with a street value of P2,720 were seized from the two men.
Jamolin's arrest came roughly a month after another FlipTop rapper, Marlon Peroramas or Loonie, was arrested for illegal drugs in Makati City on Sept. 18.
Peroramas was arrested along with his younger sister, Isyll liza Peroramas; David Rizon; Ivan Agustin and Albert Alvarez at the basement parking area of Herald Suites Polaris.
Fifteen sachets said to contain "kush" or high-grade marijuana with a street value of around P105,000 were seized from them.
In Caloocan, Jon Carlo Gutierrez, 18, and Edelberto Enriquez were arrested for allegedly smoking marijuana in Bagong Silang, Caloocan City before dawn yesterday.
The two men were caught during a surveillance operation for fugitives. Police officers seized 33 sachets of marijuana with a street value of P25,000 and an improvised firearm from the suspects.