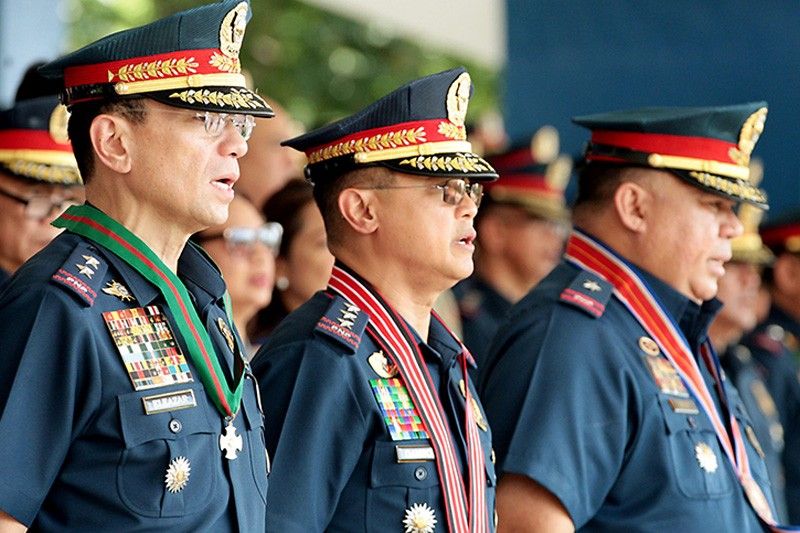 PNP officer-in-charge Lt. Gen. Archie Gamboa is flanked by outgoing NCRPO chief Maj. Gen. Guillermo Eleazar (left) and Brig. Gen. Debold Sinas, Eleazar's successor, during the command turnover ceremony at Camp Bagong Diwa yesterday.
KJ Rosales
'Expect female police chiefs in Metro Manila'
MANILA, Philippines – Residents of Metro Manila will soon have female police chiefs in their communities.
Brig. Gen. Debold Sinas, the new chief of the National Capital Region Police Office (NCRPO), yesterday vowed to replicate in Metro Manila his empowerment of policewomen in Central Visayas when he was the regional director.
"I will duplicate this policy in NCRPO. Let us test the women," he said in his speech.
Sinas appointed female police officers in Central Visayas. Among them are Cebu City police director Col. Gemma Vinluan and Siquijor police commander Col. Angela Rejano.
It was also during Sinas' tenure that a town in Siquijor, Maria, had an all-female police station.
As policewomen comprise 15 to 20 percent of the 190,000-strong PNP, Sinas said they should be given a chance to lead instead of being relegated to administrative tasks.
"I know they could do it. I have tested it, I have proven it and they are also good in investigation and supervising our people," he said.
Sinas warned erring police officers to change their ways, saying he will never tolerate scalawags in the police force.
"There will be strict observance of discipline inside police camps and all police stations and precincts within our area of responsibility," he said.
Sinas promised to intensify the government war on illegal drugs to comply with President Duterte's directive to solve the drug menace.
Sinas will be replaced as Central Visayas police chief by Brig. Gen. Valeriano de Leon, head of the PNP's Firearms and Explosives Office.
De Leon will assume his new post during a turnover ceremony at Camp Sergio Osmeña in Cebu City today.