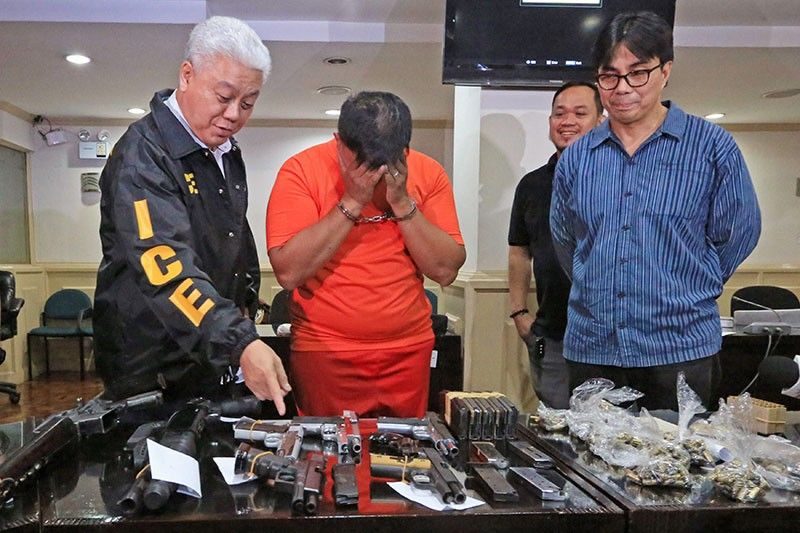 Cpl. Jhune Restie Elias covers his face as he and the firearms seized from him are presented in a press conference at the National Bureau of Investigation headquarters in Manila yesterday.
Edd Gumban
Malabon cop nabbed for gunrunning
MANILA, Philippines — The National Bureau of Investigation (NBI) said yesterday it has discovered a group of police officers allegedly involved in gunrunning.
The bureau is verifying intelligence reports about the group's activities following the arrest of Cpl. Jhune Restie Elias, assigned to the Malabon City police, NBI spokesman Francisco Lavin said in a press conference.
"It's scary when these loose firearms go to the hands of criminal elements or terrorist groups like the Abu Sayyaf. Their group is engaged in buy and sell, gun for rent and for special ops," Lavin said.
Rommel Vallejo, NBI acting regional director for Mimaropa, said they set up a test buy on Oct. 4 after receiving information that Elias had been selling loose or unregistered firearms.
An NBI agent and a confidential informant managed to buy a 1911 Armscor .45 caliber pistol for P23,000 and 60 .223 caliber bullets from Elias in the Malabon police station, Vallejo said.
"Our test-buy should have included an AK-47, but it was not available. Then he (Elias) offered high-powered firearms to us and then we set an entrapment operation," Vallejo said.
Elias was arrested when he accepted P295,000 marked money during a sting at a gasoline station's convenience store on EDSA in Balintawak, Quezon City on Oct. 11.
A high-powered 5.56mm Hydra rifle, with a tampered serial number; a 12-gauge shotgun with serial number PA-2774; a sub-compact .45 caliber pistol with no brand name or serial number; a .45 caliber Taurus pistol, model PT45 with serial number NDPO4846; an Armscor. 45 caliber pistol bearing serial number 1198063; a 1911 .45 caliber pistol with no brand name and with two different serial numbers (7790314, engraved in slide; and 12000006, engraved in the lower receiver); a .22 caliber Black Widow revolver; four single stack magazines for a 1911. 45 caliber pistol; a magazine for Glock 9mm pistol; five 5.56 banana type magazines; 41 .22 caliber bullets; 90 .45 caliber bullets; 14 9mm bullets; 100 5.56mm bullets; five plastic ammunition boxes and 491 9mm bullets.
Lavin said the serial numbers of the firearms will be checked to determine which of them are from the government.
He said the operations against loose firearms are a continuing effort of the NBI because of the coming Christmas season and the Southeast Asian games.