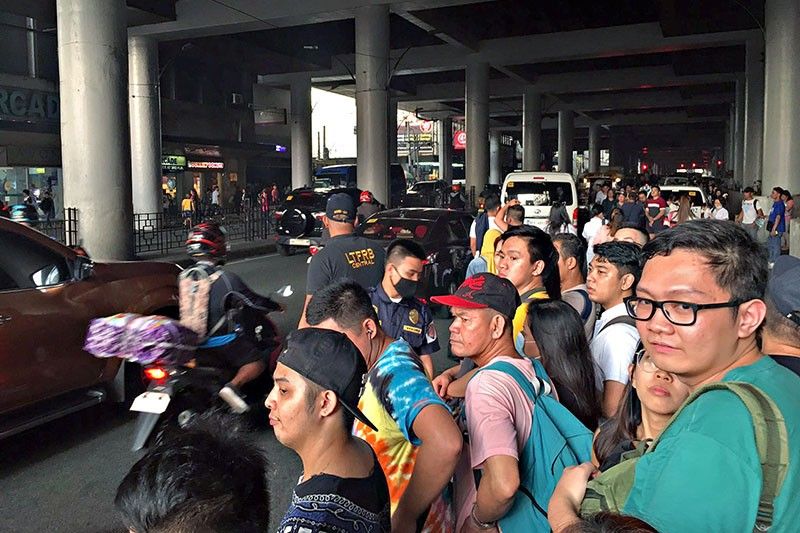 Commuters occupy nearly half of the street in Cubao yesterday as they wait for free rides as part of the government's response to the closure of three Light Rail Transit Line 2 stations.
Lawmaker wants P465 million budget cut for trains restored
Edu Punay
(The Philippine Star) - October 13, 2019 - 12:00am
MANILA, Philippines — A party-list lawmaker on Friday pushed for the restoration of the P465-million cut in the proposed budget of the Light Rail Transit Authority (LRTA) for 2020 to help address the perennial public transport problem in Metro Manila.
Gabriela Rep. Arlene Brosas assailed the decrease in the budget of LRTA from P1.473 billion this year to the P1.018 billion next year as recommended by the Department of Budget and Management and approved by the House of Representatives in the 2020 General Appropriations Bill.
Brosas called on the Senate and the bicameral conference on the 2020 budget to restore the amount, which she said is necessary for "rehabilitation and upgrade of the rail system."
She further questioned the zero budget for the Philippine National Railways (PNR) for next year.
"What improvement in our mass transport systems can the public expect if we will cut this big of an amount in the budget for LRT and PNR?" she said in a statement.
Brosas also urged the government to reverse the privatization of the rail systems, citing the failure of private sectors to fix the mass transport system.
"Instead of defunding and fully privatizing our mass transport systems, the Duterte administration should take over these and provide sufficient funds for the upgrade and repairs. The solution to the problem is in the hands of the government and not with the private sector," she suggested.
Brosas, a member of the House committee on transportation, one of the six members of the Makabayan bloc in Congress that voted against the 2020 GAB during its approval in the lower house last Oct. 20.
The Department of Transportation (DOTr) told lawmakers in earlier House budget deliberations that the agency is set to spend P100.6 billion for railway projects in 2020 to boost the country's transportation system - including funds to cover improvement of LRT and MRT lines.
DOTr Undersecretary for Railways Timothy John Batan revealed that in the proposed 2020 budget of DOTr, P5 billion has been earmarked for the Metro Rail Transit (MRT) Line 3 rehabilitation project while P74 million for the LRT Line 1 Cavite extension project.
He told lawmakers that the budget for railways constitutes 98.78 percent of DOTr's allocation for infrastructure projects and is necessary "to build, renew and upgrade our railways system."