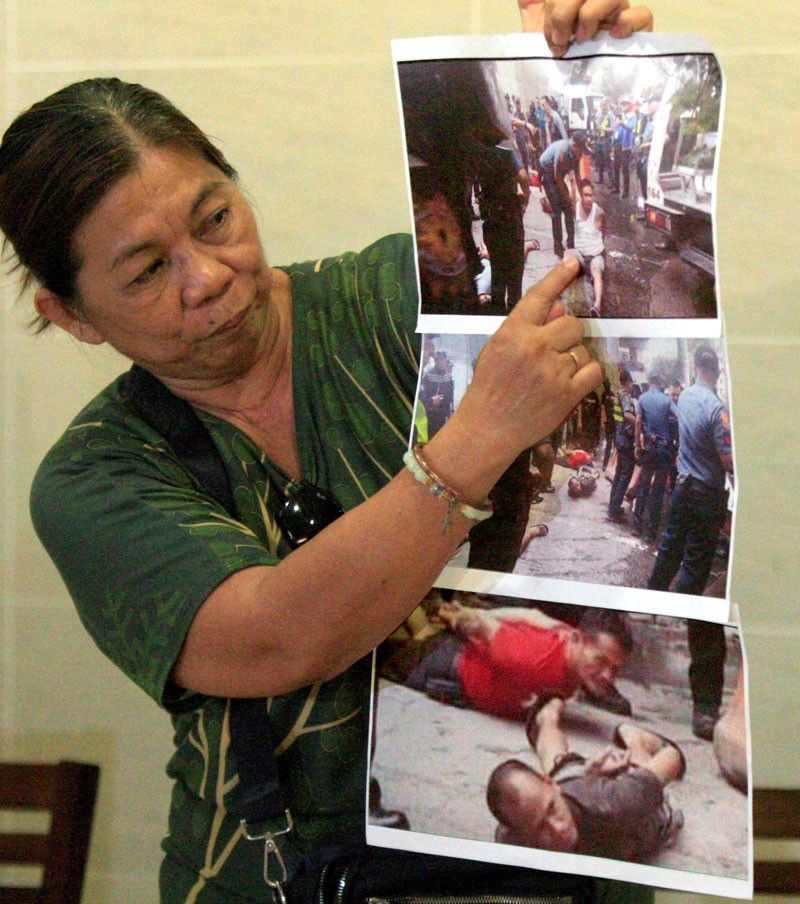 Lalaine Yuson identifies a suspect arrested in connection with her husband's murder as allegedly a driver and aide of PCSO board member Sandra Cam during a press conference in Manila yester-day.
Edd Gumban
Politics eyed in vice mayor's ambush
Probers are looking at politics as a possible motive for the murder of Batuan Vice Mayor Charlie Yuson III of Masbate in Sampaloc, Manila last Wednesday, an official said yesterday.
Capt. Henry Navarro, who heads the Manila Police District (MPD)'s homicide section, made the statement after Yuson's family said politics could be the reason for the attack.
Yuson's son, Charmax Jan Yuson, defeated Marco Martin Cam, the son of Philippine Charity Sweepstakes Office (PCSO) board member Sandra Cam, as mayor of Batuan in the midterm elections.
They also received information that five of Yuson's supporters were killed during the campaign season.
Cam as mastermind?
In a press conference yesterday, Yuson's widow, Lalaine, accused Cam of masterminding her husband's murder and alleged that the MPD tried to cover up the case.
Lalaine said the four suspects arrested within hours following her husband's killing is allegedly a driver of Cam, two police officers of Masbate and a civilian.
She earlier said that there had been a switching of suspects, an allegation MPD chief Brig. Gen. Vicente Danao denied.
Lalaine alleged that Danao "said the charges they can only file against the suspects is for illegal possession of firearms. This can't be. There is a cover-up. I want to kill people."
She called on President Duterte to intervene and help bring her husband's killers to justice.
Lalaine also denied talk that their family is involved in drugs, saying Cam "wants to take full control of Masbate."
Danao presented the men who were in a getaway van allegedly used by Yuson's assailants. He identified them as Bradford Solis, 41, a helper from Camiling, Tarlac; Juanito de Luna, 54, a farmer from Camiling; Junel Gomez, 36, a driver from Biñan, Laguna; and Rigor dela Cruz, 38, a driver from Camiling.
"They were identified by eight witnesses. We will file murder charges. Yes, they are the suspects arrested in a van with plate number CCM 8804," he said.
Following Danao's presentation, Lalaine said she was satisfied with the results of the MPD investigation.
Danao said they will invite Cam to shed light on Lalaine's allegations against her. Cam said they have "moved on" from her son's loss in the elections, but their lawyers are preparing to file charges of libel against Lalaine.
Yuson and his companions Wilfredo Pineda and Alberto Alforte were having breakfast at an eatery in Sampaloc when armed men who alighted from a silver-gray van shot them.
Navarro said the attack was well-planned as the men were armed with high-powered firearms, based on the testimonies of witnesses.
"They are definitely guns for hire," he said.