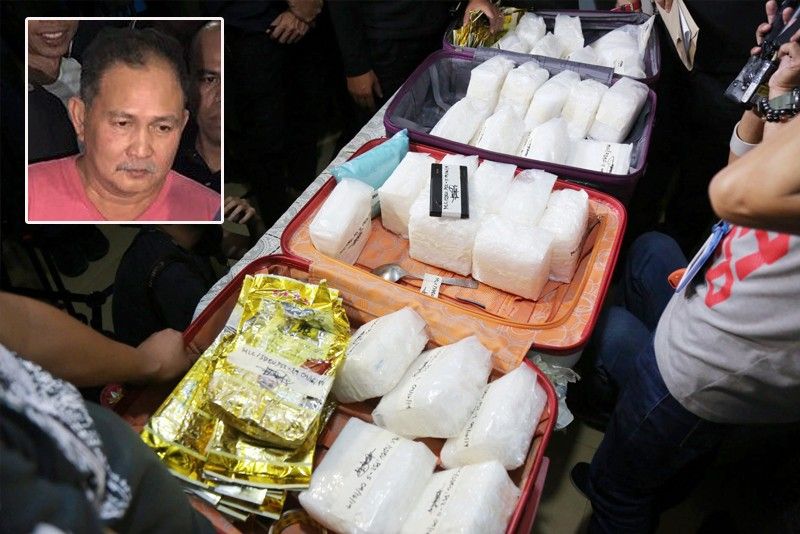 Photo provided by the NCRPO shows shabu stashed in luggage seized from Manolito Lugo Carlos (inset) during a raid in Pasig City on Monday.
Chinese drug convict's aide yields P204-million shabu
Non Alquitran
(The Philippine Star) - September 18, 2019 - 12:00am
MANILA, Philippines — Authorities confiscated from a suspected drug courier around 30 kilos of shabu worth P204 million during a raid on a condominium unit in Pasig City that was converted into a drug warehouse on Monday night.
Manolito Lugo Carlos is tagged as the right-hand man of a Chinese convict, who supposedly operates an organized drug group from the New Bilibid Prison in Muntinlupa City, according to National National Capital Region Police Office (NCRPO) director Maj. Gen. Guillermo Eleazar.
"The suspect admitted being the right-hand man of a convicted drug lord and in charge of the storage and distribution of drugs outside the NBP," Eleazar told reporters.
The drug ring operates in Metro Manila, Region 3 and Southern Tagalog, probers said.
Police said Edgardo Alfonso, 50, was allegedly a drug courier for Carlos.
Alfonso was shot dead by police during an anti-narcotics operation in Quezon City on Sunday.
NCRPO operatives raided the condominium unit of Carlos on C. Raymundo Avenue in Barangay Rosario based on a search warrant issued by the Pasig City Regional Trial Court Branch 152.
Police said the drugs were stashed in two luggage.
"Policemen seized packs of Chinese tea containing shabu weighing at least one kilo each pack for a total of 30 kilos, assorted drug paraphernalia and bank deposit slips showing the amount of remittances as payment for the drugs," Eleazar said.
The NCRPO chief said Carlos was a high-value drug target ordered arrested by President Duterte.
Police records showed that Carlos was arrested on drug charges in Mandaluyong City in 2000, but he was acquitted by the court.
During interrogation, the suspect said he got his supply of shabu from his Chinese contact at the NBP for P200,000 per kilo.
Carlos said he distributed the drugs to his buyers at a cheaper price of P500,000.
"This is proof that drug lords manage to operate in Bilibid by giving instructions to their henchmen outside the prison," Eleazar said.
The seizure of 30 kilos of shabu is so far the biggest haul of the NCRPO, he said.
"The Duterte administration's war on drugs is far from over," Eleazar stressed.
Carlos is being held at the Regional Drug Enforcement Unit of the NCRPO at Camp Bagong Diwa in Taguig City.
More drug suspects fall
In Quezon City, 10 drug suspects, including a minor, were nabbed in separate stings in the past two days.
Col. Ronnie Montejo, Quezon City Police District director, said the suspects were collared in Barangays San Antonio and Bagong Silangan.
The suspects were Monica Delasan, 27; Mark John Orpia, 29; Donna Barcena, 20; Dalos Palo, 32; Ken Henry Avis, 28; Jennelyn Elias, 18; Mark Tan, 26; Orencio Sardido, 27; Michael Balingbing, 31, and a 16-year-old boy.
The suspects are being held by police on drug charges. The minor was turned over to the city social welfare and development office.
In Binondo, Manila, four persons believed to be members of a drug ring were apprehended yesterday for alleged possession of P30,000 worth of shabu.
They were Feliciano Zacarias, 41, allegedly a member of the Commando Gang; Jhona Ramos, 38; Raymond Cruz, 28, and a 17-year-old boy who reportedly served as the group's runner.
Manila Police District Station 11 commander Lt. Col. Noel Aliño said they conducted the operation after receiving information that the suspects were allegedly behind the proliferation of drugs along Delpan street.
Police said the suspects were on the drug watchlist.
In Pasay, four suspected drug pushers were nabbed in a drug sting along Dolores street in Barangay 66.
Edmark Guan, 29; Rafael Guan, 47; Rogelio Gemino Jr., 41, and Edgardo Guan, 53, were taken into police custody.
Police said they recovered P2,000 worth of shabu and P500 in marked money from the suspects.
In Caloocan City, a Swiss man and his Filipina wife were arrested for allegedly pushing drugs in Bagong Barrio.
Police said couple Roger and Rebecca Walker reportedly used their rented apartment along Reparo street as a drug den.
The couple's housemaid, Regina Tambaque, was also nabbed by police. – With Emmanuel Tupas, Rey Galupo, Ralph Edwin Villanueva, Marc Jayson Cayabyab