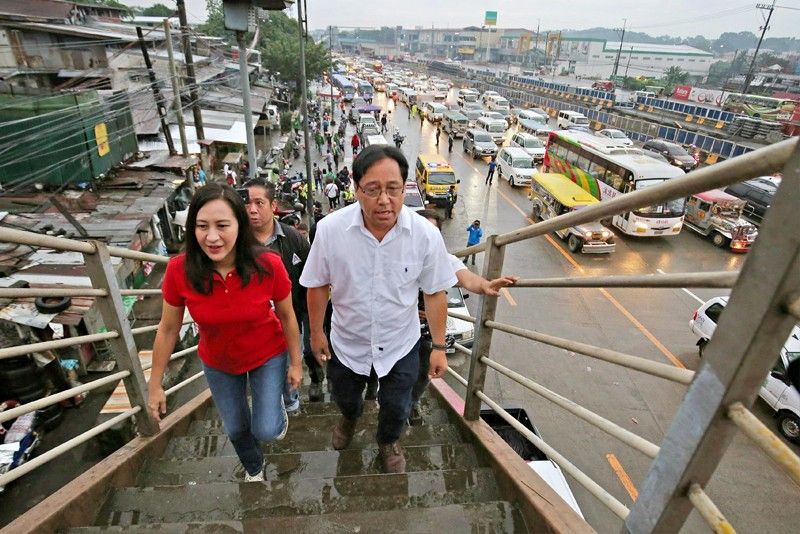 Quezon City Mayor Joy Belmonte and city traffic management chief Ariel Inton check out road clearing operations along Commonwealth Avenue yesterday.
Michael Varcas
Quezon City now 85% cleared of road obstructions
MANILA, Philippines — Quezon City is set to beat the 60-day deadline imposed by the Department of the Interior and Local Government (DILG) to clear public roads of obstructions, Mayor Joy Belmonte announced yesterday following an early morning inspection.
Belmonte said they have cleared around 85 percent of primary roads in the city.
She said the bigger challenge is to sustain the roads that have been cleared of obstructions such as sidewalk vendors and illegally parked vehicles.
"I think we can beat the deadline. Ang inutos ng DILG to clear the roads is 85 percent completed. The challenge now is not the clearing operations but sustainability," the mayor said.
Belmonte noted that the city government has been finding ways not only to clear major roads, but also to alleviate the problems of commuters.
She lauded the initiatives of local traffic management chief Ariel Inton in implementing a new dispatching system for public utility vehicles along Commonwealth Avenue.
Belmonte said the Metropolitan Manila Development Authority and Land Transportation Franchising and Regulatory Board helped the local goverment in the deployment of more buses along the 12-kilometer stretch of the highway.
She added they are shifting their focus on finding alternative sites for vendors displaced by the clearing operations.
The 60-day countdown started on July 29 after the DILG issued a memorandum circular mandating local chief executives to clear the streets of obstructions.
Mayors may face administrative charges, including dereliction of duty and negligence, if they fail to achieve significant results in road clearing operations within the period.
President Duterte has ordered local governments to reclaim public roads that have been used for private purposes in a bid to ease traffic congestion.