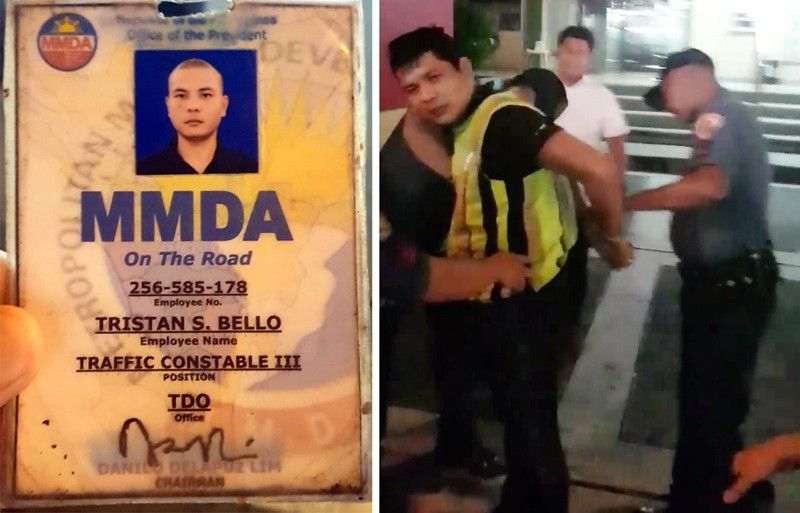 Tristan Bello is handcuffed by police officers during an entrapment operation in San Juan City on Monday night.
Images taken from a Facebook post by Councilor Warren Villa.
Axed MMDA enforcer nabbed for extortion
MANILA, Philippines — A dismissed Metropolitan Manila Development Authority (MMDA) traffic enforcer was arrested for allegedly extorting P5,000 from a motorist who happened to be a Sangguniang Kabataan (SK) chairman in San Juan on Monday night.
Tristan Bello, 35, was dismissed for a robbery-extortion incident along McArthur Highway in November 2018, according to a termination of job contract memorandum signed by MMDA Chairman Danilo Lim.
Bello was arrested in an entrapment at the corner of Wilson and P. Guevarra streets Monday night for allegedly posing as an MMDA traffic enforcer and receiving P5,000 from SK chairman Ariel Atad, 24.
Bello was clad in an MMDA uniform and carried a traffic enforcer ID, according to traffic czar Bong Nebrija.
He will face charges of robbery extortion and usurpation of authority.
Col. Jaime Santos, San Juan police chief, said Atad was in his car parked in front of a bank when Bello accosted him for violating the anti-distracted driving law and allegedly demanded P5,000 as payment.
Unknown to Bello, Atad managed to seek the help of Santos, who sent Capt. Edwin Malabanan to conduct the entrapment operation against Bello. – Non Alquitran