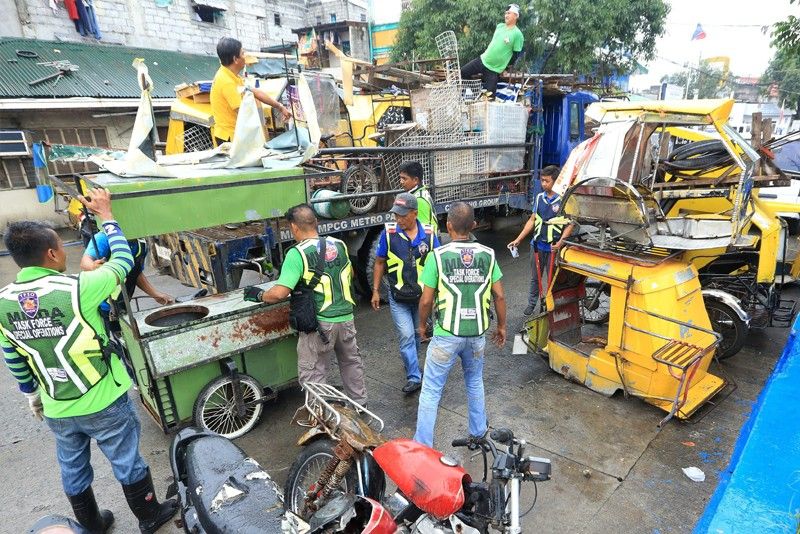 Personnel of the Metropolitan Manila Development Authority remove illegally parked vehicles and other road obstructions at the Baseco Compound in Manila yesterday.
Edd Gumban
Mayors confident of beating deadline to clear roads
MANILA, Philippines — Metro Manila mayors are confident they can finish clearing public roads of obstructions before the 60-day deadline imposed by the Duterte administration ends.
Metropolitan Manila Development Authority (MMDA) general manager Jojo Garcia said the mayors assured him during yesterday's Metro Manila Council (MMC) meeting that they are on track in clearing major and inner roads of obstructions such as vendors, illegal terminals and structures.
The MMC is the policy-making body of the MMDA.
Garcia said 90 percent of Mabuhay lanes on EDSA as well as national roads and 60 percent of inner roads have been cleared as the 60-day deadline reaches its halfway mark.
Quezon City, Manila and Caloocan – three of the largest cities in the metropolis – have cleared 80 to 90 percent of public roads, according to Garcia.
Pasig Mayor Vico Sotto admitted that his city is lagging behind at 50 to 60 percent of national and secondary roads cleared.
He attributed the delay to the so-called "striker" vendors who go back to the streets to sell their wares when authorities are away.
"I think we will reach 100 percent by the end of the 60 days," Sotto said.
San Juan Mayor Francis Zamora said the city government has so far cleared 80 percent of primary roads.
"I'm am sure that San Juan will beat the deadline," Zamora said.
He said the city council would finalize this week the passage of an ordinance to convert idle lots to parking facilities.
Zamora has banned parking along the busy roads in the city.
Parañaque Mayor Edwin Olivarez said he has presented to the city council his plans to put up a commercial building across the Redemptorist Church to accommodate Baclaran vendors displaced by the clearing operations.
Mayor Toby Tiangco of Navotas said 70 percent of the city's roads have been cleared, and some 54 boats will be removed from the Bangkulasi River in the government's cleanup of waterways draining to the Manila Bay.
Pasay Mayor Imelda Calixto-Rubiano said only 25 percent of inner roads in the city have yet to be cleared.
Representatives from the city government of Las Piñas said they are almost finished in clearing public roads.
Officials said major roads in Malabon, Caloocan, Mandaluyong, Muntinlupa and Pateros have been cleared of obstructions.
Marikina was the first city to clear its public roads ahead of the deadline.
"The road clearing operations have been successful with the Metro Manila mayors leading the campaign," MMDA chairman Danilo Lim said.