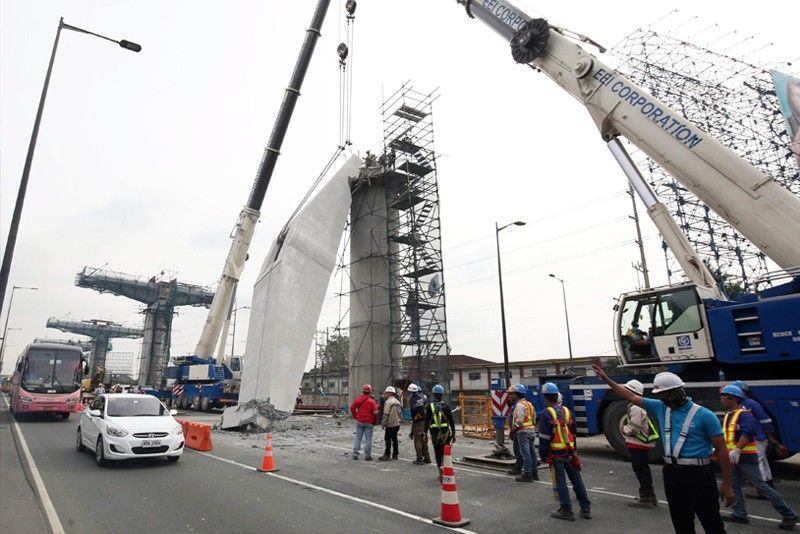 A 58-ton coping beam of the Skyway Stage 3 project in Balintawak, Quezon City fell off its hook, causing traffic jams along the North Luzon Expressway yesterday.
Michael Varcas
Belmonte: Quezon City to sustain road clearing operations
Janvic Mateo
(The Philippine Star) - August 19, 2019 - 12:00am
MANILA, Philippines — Quezon City Mayor Joy Belmonte has assured the public that road clearing operations in the city would continue even after the 60-day period set by the Department of the Interior and Local Government (DILG) is over.
Belmonte said the city government would deputize barangay leaders to ensure that the streets remain free of obstructions.
She said barangay officials are required to report their accomplishments every week.
The local government has deputized barangay public safety officers to issue citation tickets to violators.
Belmonte said they hired towing firms and acquired wheel clamps to boost anti-illegal parking operations.
She said streets hawkers would be transferred to public markets or vending sites, which will be established for them.
"Vendors should not lose their livelihood," she said.
The mayor urged barangay officials whose halls are encroaching on sidewalks to look for land that the city government can purchase.
Belmonte, along with DILG and police officials, led the demolition of a barangay hall in Damayang Lagi on Friday.