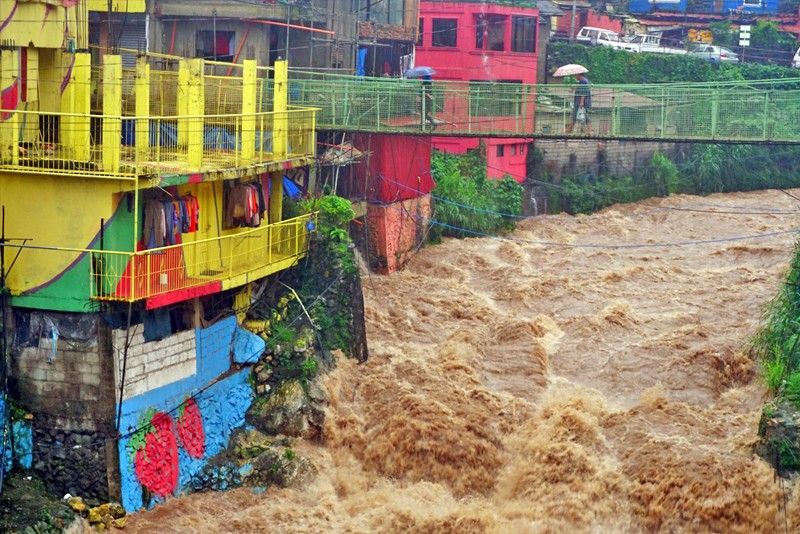 Residents walk past a swollen river below hillside houses in Barangay Balili, La Trinidad, Benguet amid heavy rains yesterday.
Andy Zapata Jr.
Monsoons inundate Baguio, Benguet
BAGUIO CITY, Philippines — The southwest monsoon has dumped unusually heavy rains in this city and most parts of Benguet that almost equaled the rainfall threshold for one month.
The Philippine Atmospheric, Geophysical and Astronomical Services Administration-Baguio synoptic station said the amount of rainfall from Aug. 3 to yesterday was at 648.8 millimeters. The Baguio-Benguet rainfall threshold for one month is 905 mm.
Wilson Locando of the state weather bureau said the amount of rain from 8 a.m. on Monday to 8 a.m. yesterday increased from 136 mm to 207.8 mm.
The Office of Civil Defense in the Cordilleras warned residents on mountain slopes and low-lying areas to evacuate to safer grounds.
The water level in Ambuklao Dam in Bokod and Binga Dam in Itogon, both in Benguet, rose above its critical level, amid heavy rains.
Eight spillway gates in Ambuklao Dam and six in Binga were opened yesterday.
Meanwhile, in Pangasinan, the Agno River Basin Flood Forecasting and Warning Center alerted villagers near mountain slopes, low-lying areas and those along waterways to take precautionary measures against possible landslides and flashfloods.
In yesterday's flood advisory, the center said rainfall in the past 24 hours was at 19.3 mm.
It said tributaries of the Ambayaoan, Viray-Depalo, Banila and Lower Agno Rivers and streams were likely to be affected. – Eva Visperas