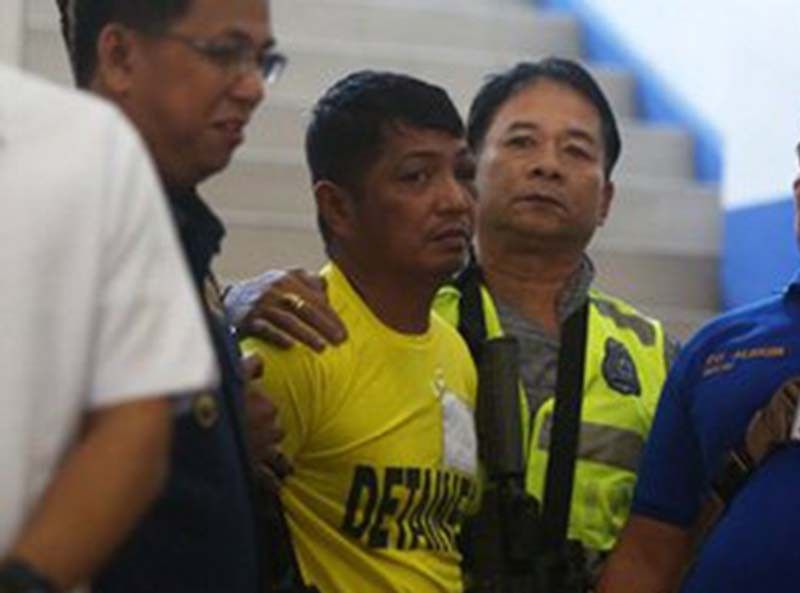 In this July 30, 2016 file photo, Vhon Martin Tanto is brought to the Manila Police District headquarters. Tanto was caught in Masbate, where he had been hiding in his wife's hometown.
The STAR/Miguel de Guzman, File
Manila court convicts man in 2016 Quiapo road rage shooting
(Philstar.com) - August 5, 2019 - 12:32pm
MANILA, Philippines — A former Army reservist who was subject to a manhunt in 2016 was found guilty for the killing of Mark Vincent Garalde, a cyclist who was shot in a road rage incident caught on security video.
In a statement, the Department of Justice said Manila Regional Trial Court Branch 14 found Vhon Martin Tanto guilty beyond reasonable doubt for murder.
Tanto, a Philippine Army reservist at the time, shot Garalde twice after a road altercation in Quiapo, Manila on July 25, 2016. "The two fought after Garalde, while riding his bicycle, blocked Tanto's car," the DOJ said.
Closed-circuit television footage of the incident showed Tanto and Garalde engaging in a fistfight, which ended when Tanto got a black eye and was held in a headlock by Garalde.
After a brief exchange of words, Tanto was seen getting out of his car and walking towards Garalde, who was pushing his bicycle, and shooting him.
RELATED: Manhunt on for biker killer in Quiapo road rage
Tanto was arrested in Masbate and brought to the Manila Police District to face murder charges. He said he had been provoked by Garalde's threat to break his windshield.
Aside from CCTV footage of the altercation, the DOJ also presented against Tanto, the department said.
Tanto has been sentenced to reclusion perpetua, or from 20 to 40 years in prison. The court also ordered him to pay Garalde's heirs P1.048 million as actual damages and P100,000 "each as indemnity ex delicto, moral and exemplary damages"—a total of P300,000.