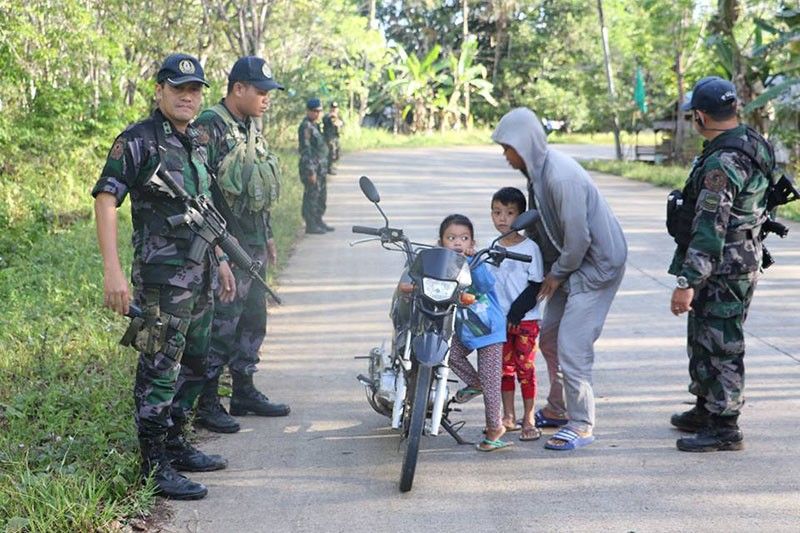 Personnel of the Basilan provincial police guards a highway traversing a former stronghold of the Abu Sayyaf.
Philstar.com/John Unson
WestMinCom: Presence of Maute, Abu Sayyaf dwindles
John Unson
(Philstar.com) - July 27, 2019 - 6:52pm
COTABATO CITY, Philippines — The Western Mindanao Command is optimistic of continuing peaceful days in two provinces troubled in past years by Islamic extremists, WestMinCom's commander said Saturday.
Lt. Gen. Cirilito Sobejana of WestMinCom said there is peace now in Basilan and an improving security situation in Lanao del Sur due to the cooperation in maintaining law and order among provincial officials, the military and police units deployed in the two provinces.
Sobejana said remnants of the Dawlah Islamiya, or the Maute terror group, have been silent since their leader, Abu Dar, whose real name is Owaida Marohombsar, was killed by soldiers on March 14 in Tubaran town in the second district of Lanao del Sur.
"It was a big leap towards improving peace and order in Lanao del Sur. The provincial peace and order council there is helping us sustain our pacification efforts by supporting the community peace programs there of WestMinCom," Sobejana said.
He said besides the new governor of Lanao del Sur, Mamintal Adiong Jr., credit also has to go to Col. Madzgani Mukaram, provincial police director.
Sobejana said the provincial police have been flexing extensively its capability in running after remaining Maute terrorists wanted for acts of terror.
Sobejana said while there are still more or less 20 Abu Sayyaf stragglers in Basilan, there is peace now in the province owing to the involvement of mayors and their provincial governor, Jim Salliman, in WestMinCom's peacekeeping missions.
"We have from Basilan a good `template' in addressing violent religious extremism using diplomacy and humanitarian maneuvers to entice violent extremists to reintegrate into peaceful communities in the province," Sobejana said.
He cited as example the surrender in batches of more than 200 Abu Sayyaf members Basilan, among them adolescents trained in fabrication of improvised explosive devices, from between 2017 to early this year to avail of a local rehabilitation program offered by the provincial government and the erstwhile leadership of the now defunct Autonomous Region in Muslim Mindanao, or ARMM.
Sobejana said the "peace maneuver template" he was referring to as applicable in other southern provinces is how reforming former Abu Sayyaf bandits agreed to return to the fold of law through the intercession of Salliman and the now Basilan Rep. Mujiv Hataman, while he was governor of ARMM from 2012 to February this year.
There were recent isolated incidents in Basilan involving few Abu Sayyaf members but all seemed meant only to show that the group is still a "force to reckon with," according to Sobejana.
"Basilan is generally peaceful and the provincial government and the mayors there are in control," he said.
Sobejana said text messages circulated about two weeks ago in Basilan threatening teachers of abduction by Abu Sayyaf forces.
The threats did not even cause any problem in the operation of public schools in the province, he said.
"The text messages came out just days after 49 former Abu Sayyaf members from across Basilan finished a government accelerated education program. Someone out there, a sour grape perhaps, could have circulated those text messages," Sobejana said.
He said WestMinCom is thankful to the Department of Education, the provincial government of Basilan and to the former ARMM governor for helping the now reforming former Abu Sayyaf bandits.
Sobejana said WestMinCom has trust and confidence on Basilan's provincial peace and order council.
"We have enough forces standing by. Any provocation shall be dealt with accordingly. Meantime, WestMinCom will continue working with the local government units in Basilan maintain the peace now spreading around the province," Sobejana said.