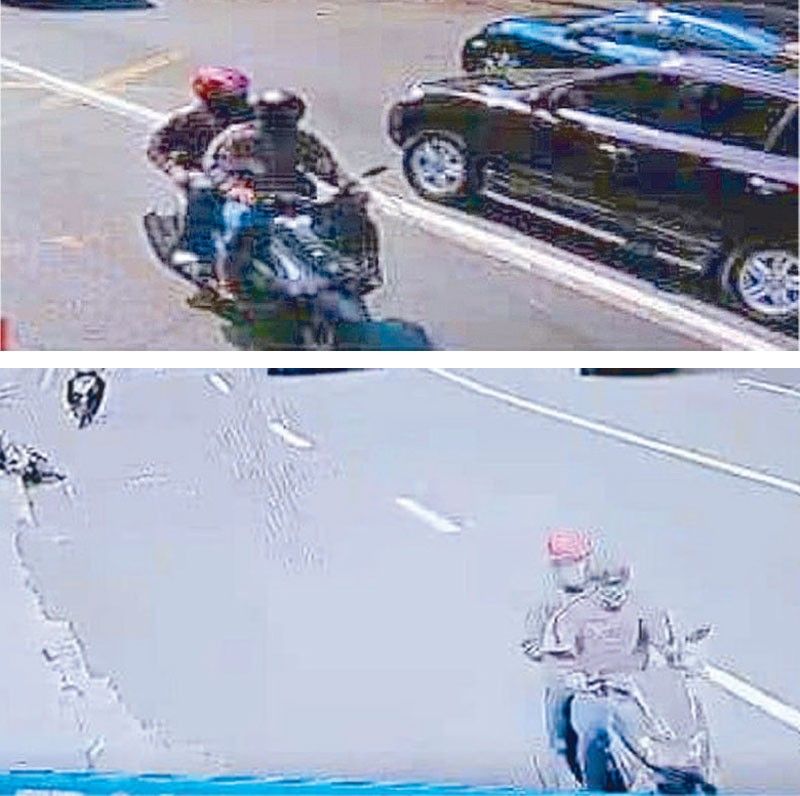 Stills taken from closed-circuit television footages show the attackers of S/Sgt. Fernando Diamzon (top) and M/Sgt. Edgar Morada.
Rey Galupo
Manila cop slain due to drug link?
MANILA, Philippines — The National Capital Region Police Office (NCRPO) is eyeing illegal drugs as a possible motive in the ambush of a policeman in Quezon City on Wednesday, an official said yesterday.
Maj. Gen. Guillermo Eleazar, NCRPO chief, said they received information that M/Sgt. Edgar Morada was previously linked to the illegal drug trade.
"We are validating information he was involved in illegal drugs," he said in a phone interview.
Eleazar said they are not discounting the possibility that Morada's murder is related to the drug cases he handled.
Morada, assigned to the Manila Police District (MPD), had just left Camp Crame, where he processed papers for lateral transfer, and was riding his motorcycle when two motorcycle-riding men attacked him at the corner of Granada and Valencia streets at around 12:55 p.m.
The back rider pulled out a handgun and shot the police officer several times when Morada stopped in front of a gasoline station.
Sources said he stopped at the gasoline station to answer a call on his cell phone.
Same killers?
An insider said Morada was a "validated" high-value target (HVT) and could have been killed by the same men who gunned down a policeman near Camp Crame last June 21.
Morada was reported to be a "level two HVT" and identified as an alleged protector of Ryan Yalung, a former police informant who became a drug addict and was killed by a motorcycle-riding assailant along Capinpin street in Barangay Upper Bicutan, Taguig in January 2018.
Morada, who resided in Bicutan, was allegedly a leader of the "ninja cops," a group of police officers who reportedly recycled illegal drugs seized from the streets. He was with the Quezon City Police District before he was transferred to the MPD.
A watchlist obtained by The STAR, which includes the names of 20 MPD police officers and several barangay officials, had the name "PO3 Morata."
Some MPD police officers believe that Morada could have been mistaken for another person, but the source said while the name could have been misspelled, the victim being a level two HVT indicates there had been several "validations" of his drug links.
The source said the same men who gunned down S/Sgt. Fernando Diamzon on June 21 may have killed Morada.
Diamzon, assigned to the Philippine National Police Intelligence Group, was riding his motorcycle home from Camp Crame when two men on another motorcycle shot him from behind several times along Boni Serrano Avenue just before 9 a.m.
The source, citing images of the men who attacked the two police officers, said it was unlikely to be "coincidental in so many ways" for the assailants in the two murders to be wearing the same red and black helmets and gray jackets and riding a motorcycle with the same color and design.
"We are crossmatching the suspects on (Morada's) case with other similar cases," Eleazar said.