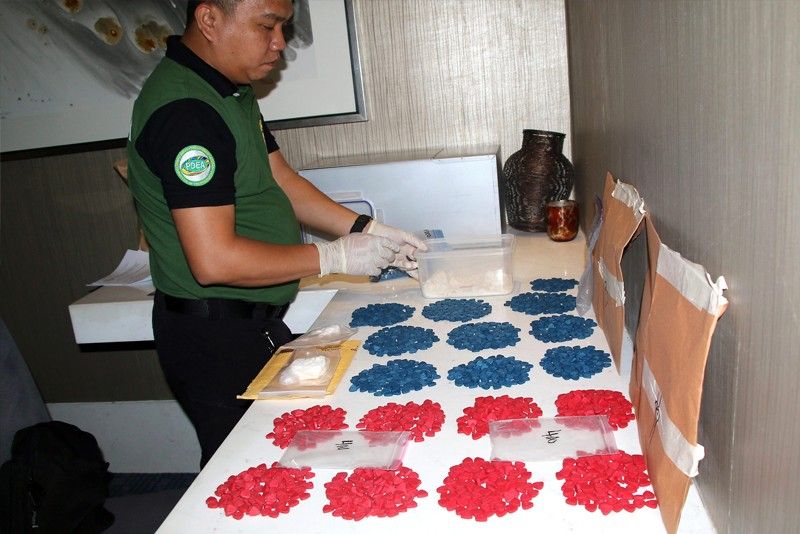 A Philippine Drug Enforcement Agency operative takes an inventory of 2,750 blue and red ecstasy tablets and 200 grams of cocaine found in the safety deposit box of a hotel in Bonifacio Global City, Taguig during an operation on Friday night.
Miguel de Guzman
P5.7-million cocaine, ecstasy seized from hotel safe
MANILA, Philippines — More than P5.7 million worth of ecstacy tablets and cocaine were seized from a safety deposit box rented by an arrested drug suspect at a posh hotel in Taguig City on Friday night.
Operatives of the Philippine Drug Enforcement Agency (PDEA) were able to confiscate the party drugs during the implementation of a search warrant at Shangri-La at The Fort.
The safety deposit box was rented by businessman Domingo Tanyao Uy Jr., who was arrested after P8.7 million worth of illegal drugs were found in an open vault of the room he rented at the same hotel last month.
His arrest came after hotel officials tipped off authorities about the presence of illegal drugs in the rented room.
Weeks after his arrest, PDEA operatives opened the safety deposit box kept by Uy, which contained 2,750 ecstacy tablets and 200 grams of cocaine.
Authorities sought a search warrant after getting information that Uy maintained a safety deposit box that contained illegal drugs.
Uy, who is under detention, faces additional counts of drug possession charges.
Meanwhile, Raphael Rico, 19, was arrested for carrying 50 grams of shabu with a street value of P100,000 during a drug sting in Parañaque City Thursday night.
In Caloocan, Romnick Leyco and Kenneth Hernandez were arrested in a drug sting before dawn yesterday while Monaliza Alapide and Cirilo Paz were caught allegedly using drugs in Vista Verde Executive Village.
In Malabon, Domenador Penarada and Alex Vasaya were arrested in separate operations on Friday night. – With Marc Jayson Cayabyab