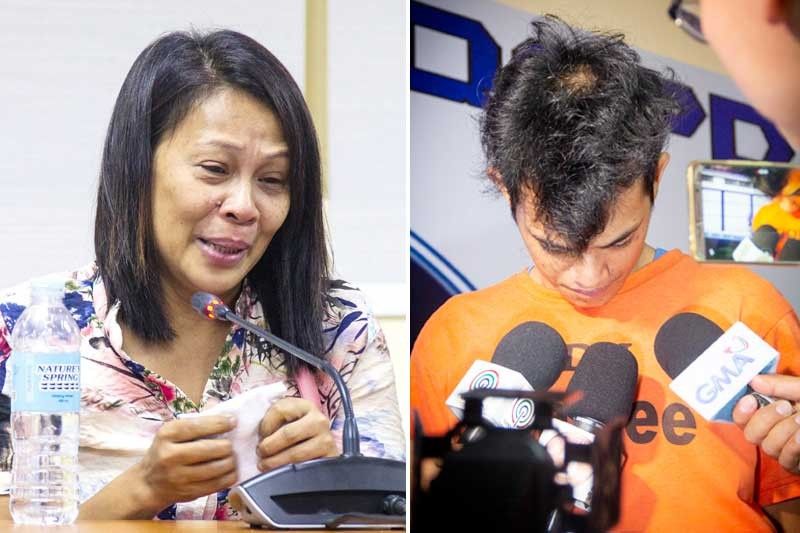 Eden Dacillo cries after suspect Elimond Domingo admitted killing her daughter during a press conference yesterday.
Suspect in Quezon City student's murder nabbed
MANILA, Philippines — A man tagged in the killing of a Grade 12 student in Barangay Payatas B, Quezon City has been arrested by police.
Elimond Domingo, 25, is the prime suspect in the murder of 18-year-old Allison Dacillo, whom he stabbed multiple times with a knife and raped on June 7.
"He was apprehended in his rented room during a follow-up operation on Monday," Quezon City Police District (QCPD) director Brig. Gen. Joselito Esquivel Jr. told reporters yesterday.
Domingo is one of the 10 men considered by probers as persons of interest in Dacillo's death.
Investigators from the QCPD Criminal Investigation and Detection Unit (CIDU) were suspicious of Domingo as he was uneasy during interrogation.
CIDU commander Maj. Elmer Monsalve said Domingo was tagged in the student's death after a portion of his necklace was found in the victim's room.
A photograph posted on Domingo's Facebook account showed him wearing the same necklace.
When police arrested him, the suspect admitted killing the victim.
"Nanakawan ko lang sana siya. Nagising kasi siya kaya sinaksak ko siya (I only intended to rob her. But she woke up so I stabbed her)," Domingo said.
The suspect asked for forgiveness from the victim's family, adding he was drunk when the crime happened.
He denied raping Dacillo. But the result of a medico legal examination on the victim showed that she was raped.
Domingo later admitted that he put his fingers in the victim's genitals after killing her.
Dacillo's mother, Eden, broke down in tears during a press conference when police accidentally showed on the screen a photograph of her corpse at the crime scene.
Probers said they recovered the victim's cell phone and keys, which the suspect threw in a creek in Barangay Commonwealth.
Charges of robbery with homicide and rape have been filed against the suspect before the Quezon City prosecutor's office.