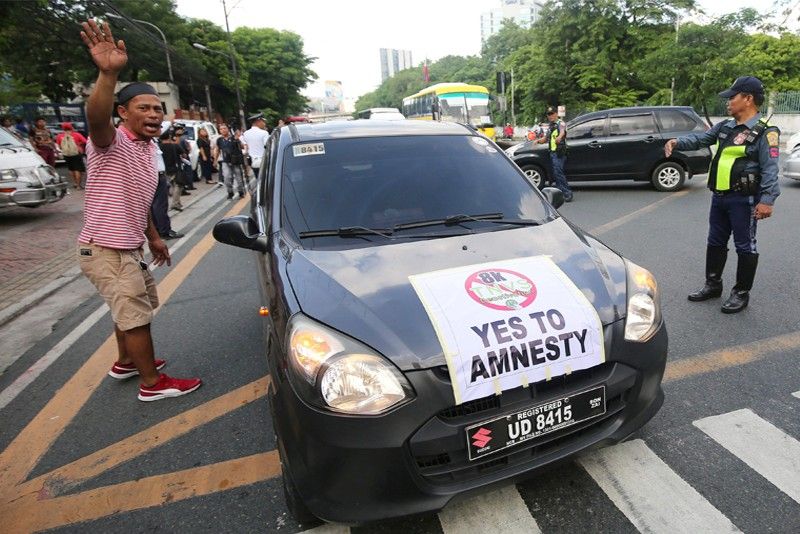 Grab drivers park their vehicles in front of the Land Transportation Franchising and Regulatory Board office in Quezon City yesterday to protest the deactivation of their accounts.
Michael Varcas
3,000 Grab units saved from deactivation
MANILA, Philippines — Some 3,000 of the 8,000 transport network vehicle service (TNVS) units of ridesharing platform Grab listed for deactivation for lack of documents are now safe.
This is after the drivers of these units were able to submit documents proving they applied for provisional authority or certificate of public convenience at the Land Transportation Franchising and Regulatory Board (LTFRB) before Grab's self-imposed deadline last Monday.
"We have received 3,000 drivers showing proof they have a provisional authority and they went through the process," Grab Philippines president Brian Cu said during a hearing at the LTFRB in Quezon City yesterday.
This means that only 5,000 TNVS units on Grab's platform were deactivated, Cu said.
Since January, the ridehailing firm has deactivated about 15,000 units for lack of documents and inactivity. There are about 45,000 units registered on Grab's platform.
The number does not include about 1,000 other units that were removed due to the bad behavior of drivers.
LTFRB chairman Martin Delgra III said Grab was correct in its decision to deactivate colorum units.
"Because they made that public announcement, they were able to push their TNVS to submit the necessary documents for these drivers and operators to stay in the system," Delgra said in an interview with reporters after the hearing.
Cu urged the LTFRB to find ways to quickly increase the number of drivers as the soaring demand for rides continues to be undeserved.
He said the number of vehicles needed to service their customers is already insufficient by around 15,000 daily active vehicles.