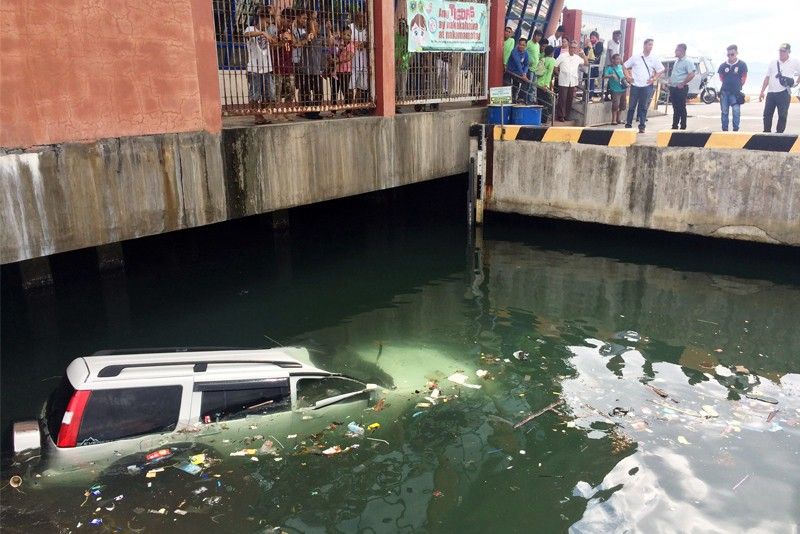 People look at a vehicle that fell into the sea at the Legazpi City port yesterday.
Cet Dematera
Jeep falls into ravine in Isabela; 8 dead, 31 hurt
TUGUEGARAO CITY, Cagayan, Philippines — Nine persons died and 31 others were injured when a jeepney plunged into a ravine in Barangay Balagan, San Mariano, Isabela on Sunday.
Three persons died at the scene. Rescuers said it took almost an hour before the other victims were brought to a hospital for treatment.
The fatalities were identified as Ynes Tapaoan, Regina Madria, John Lloyd Rivera, John Lloyd Cardiente, Marilyn Gammad, Carmelita Zalun, Gina Magusib and Irving Cleto.
The jeepney driver, Jeffrey Darangili, remains in critical condition in a hospital.
Police said the jeepney was carrying 37 passengers when the brake malfunctioned as Darangili was driving down a curved portion of the road at around 4 p.m.
Aside from overloading, the jeepney was also reportedly carrying sacks of fertilizer and cement.
Probers are looking into the culpability of the jeepney operator.
Meanwhile, three-year-old Inigo, and Joel, 34, both surnamed Galdones, died when a Toyota Hilux rammed a basketball hoop in Barangay Suso, Sta. Maria, Ilocos Sur on Sunday night.
The driver of the vehicle, Jordan, 37, and Dan Jay, 6, also surnamed Galdones, were wounded and remain confined at the Ilocos Sur District Hospital.
SUV plunges into sea
In Legazpi City, a Ford Everest fell into the sea as the driver drove past the barricades in the parking lot of the Philippine Ports Authority (PPA) yesterday.
Fatima Reaso, PPA-Legazpi acting port manager, identified the driver of the vehicle as Josefina Thomas, 54, finance officer of motorcycle dealer RUSI Motors.
Port personnel and bystanders forced open the door to pull out Thomas before the vehicle sank. She suffered bruises and was brought to a hospital for treatment.
"We are puzzled how this car managed to jump off... when the port rail is high enough," Reaso told The STAR.
RUSI acting general manager Jose Borromeo said they would dispatch a truck-mounted crane to retrieve the vehicle. – With Cet Dematera