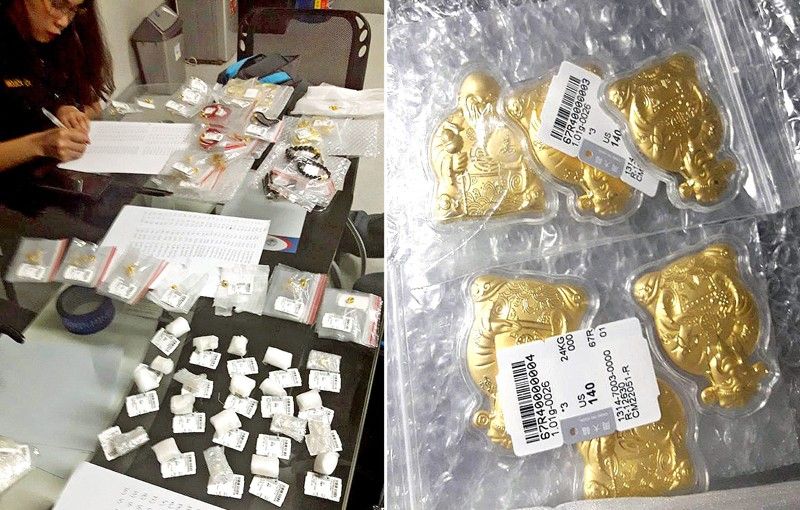 A Customs examiner takes an inventory of diamonds and jewelry seized from a Chinese tourist on April 28. Right photo shows some of the gold jewelry.
Rudy Santos
Chinese taxed P61 million for smuggling diamonds, jewelry
Rudy Santos
(The Philippine Star) - June 2, 2019 - 12:00am
MANILA, Philippines — A Chinese man was forced to pay P61 million in taxes and fines on Friday after he tried to smuggle P71 million worth of diamonds and jewelry.
The P61 million set a record for the largest tax or fine collected in a single official receipt in three decades, according to records of the Bureau of Customs-Ninoy Aquino International Airport (BOC-NAIA) district collector Mimel Talusan.
"This is just proof that the vigilance and honesty of frontliners at the airport are still alive. A passenger paying more than P61 million as final tax in a single receipt is historic," Talusan said.
Kwun Yi Tsoi arrived at the NAIA Terminal 3 on April 28 from Hong Kong but was briefly detained by BOC collector Ronald Arzadon and examiner Claire Mojica after X-ray personnel found 235 diamonds and 803 pieces of jewelry in his handcarried bag.
Kwun, who failed to declare the diamonds and jewelry, arrived as a tourist with six other Chinese.
The seized diamonds were covered by a certification from the Gemological Institute of America, the BOC said.
The BOC said Kwun paid an import duty of P7,217,269; value-added tax of P11,258,944; excise tax of P14,434,538; Bureau of Internal Revenue dues of P30,000; and a surcharge or fine of P28,147,359.